If you no longer wish to use a paid Sortly plan, you have the option to delete your account or downgrade your Sortly subscription to our free plan.
This article outlines how to:
Deleting Your Account
To permanently delete your account and remove all data, navigate to the Company Details section of your Sortly settings. Once your account is deleted, you will instantly lose access to your account and your data cannot be recovered.
Should you wish to take your information with you in case you come back, you can export your data via CSV to upload again at a later time. If you need a backup of photos in addition to your data we recommend exporting your data to Dropbox.
NOTE: Deleting your Sortly Account will not automatically cancel your paid subscription if your plan has not been previously downgraded. If you would like to cancel your subscription, please reach out to support@sortly.com.
Downgrading your Sortly Subscription
You can downgrade to a Sortly Free plan, provided your current inventory data falls within the limits of a free subscription. This will allow you to keep up to 100 unique entries, a single user sign-on, and one custom field. The downgrade button will only be available to click on if you meet the plan limits for the Sortly Free plan. You can find a list of limits for all plans available here.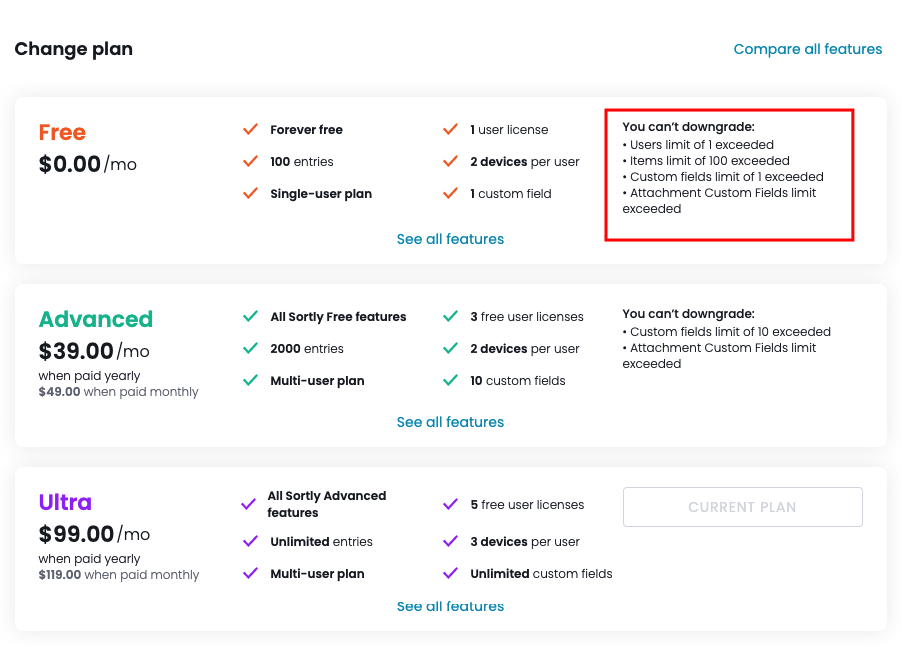 Please visit the "Manage Plan" section of your Sortly account to downgrade your plan.
If you have any questions surrounding this process please reach out to support@sortly.com.