Updating your billing information for your Sortly account has never been easier. In the billing tab of your account, you can manage your current plan, update your credit card, and see your payment history since your account has been active. You will need to be an OWNER level user to see any billing information in the account.
Follow the steps below to access the billing panel of your account:
*Please note that if you pay through the Apple App Store or Google Play Store, these steps will not apply to you. See the section below section called app store for billing information related to these respective stores.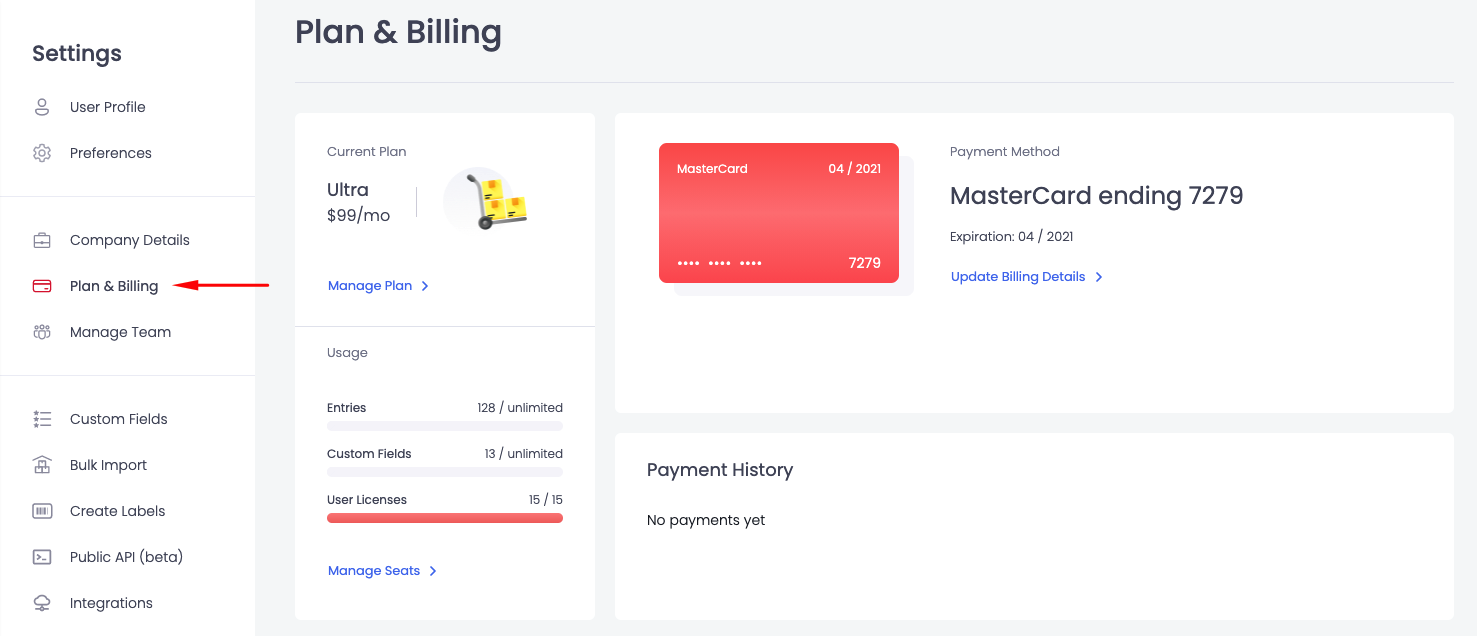 Once in the settings panel, click on the tab that says 'Plan & Billing'
Once in this tab, you should see the settings below.

Current Plan which shows your current plan within Sortly
Manage Plan

Through the Manage Plan button, you can upgrade your account at any point in time or downgrade your account if you meet the limits of the plan to which you want to downgrade.

Update Billing Details

Here you can update your card at any time. *Please Note: Any changes will take effect on the next billing cycle.

Payment History

Payment History shows the history of payments made for your active account.

Manage Seats

This is where you will be able to manage all of the members that are on your team.
Please note: When you update the email to log in associated with your account, it does not update the email that receives invoices. If you'd like another email added to receive copies of invoices or you need to change the invoice email address on file, please email support@sortly.com, and we'll be happy to update that for you.
App Store Billing:
APPLE/iPHONE:
Go to Settings > [your name] > Subscriptions.
Tap the subscription that you want to manage.
Here's what to do

if you don't see the subscription that you want.
Choose a different subscription option or tap Cancel Subscription. If you don't see Cancel Subscription, the subscription is already canceled and won't renew.
You can also manage subscriptions when you go to Settings > [your name] > iTunes & App Store. Tap your Apple ID at the top of the screen, then tap View Apple ID. Scroll to Subscriptions, then tap it.
GOOGLE/ANDROID:
On your Android phone or tablet, open the Google Play Store.
Check if you're signed in to the correct Google Account.
Tap Menu >> Subscriptions.
Find the subscription you want to update.
Choose from the following:

For active subscriptions, tap

Manage.
To fix your payment method, tap

Update.

Follow the instructions to update your payment method.
If your payment method is declined or has insufficient funds, your subscription may be canceled. Add a backup payment method, or set up your subscription again.
If you have any issues with this process please feel free to reach out to support@sortly.com.