Generate beautiful QR labels that are connected to any of your items in Sortly in a few clicks. They can be created in a variety of sizes with different attributes available to include depending on the size you select.
Sortly generated QR labels can be printed on widely available off-the-shelf self-adhesive (Avery) labels using most standard printers. We also now support thermal/handheld Dymo label printers. You can find the steps on printing with a thermal printer here.
Need waterproof or high durability labels? - If you require specialized material labels or asset tags, we recommend you order them with our partners at Camcode. After creating your labels, you can connect those labels to Sortly by following these steps.
Note: Creating custom QR labels is only possible with Sortly Advanced and Ultra Plans. The Sortly Free plan does not support the creation of custom QR labels.
See the below video for a walkthrough of how to generate QR labels and barcode labels for your folders and items below:
See steps to create Sortly QR labels on Desktop in screenshots below
Step 1: Select single or multiple items/folders and then tap on the Generate Label button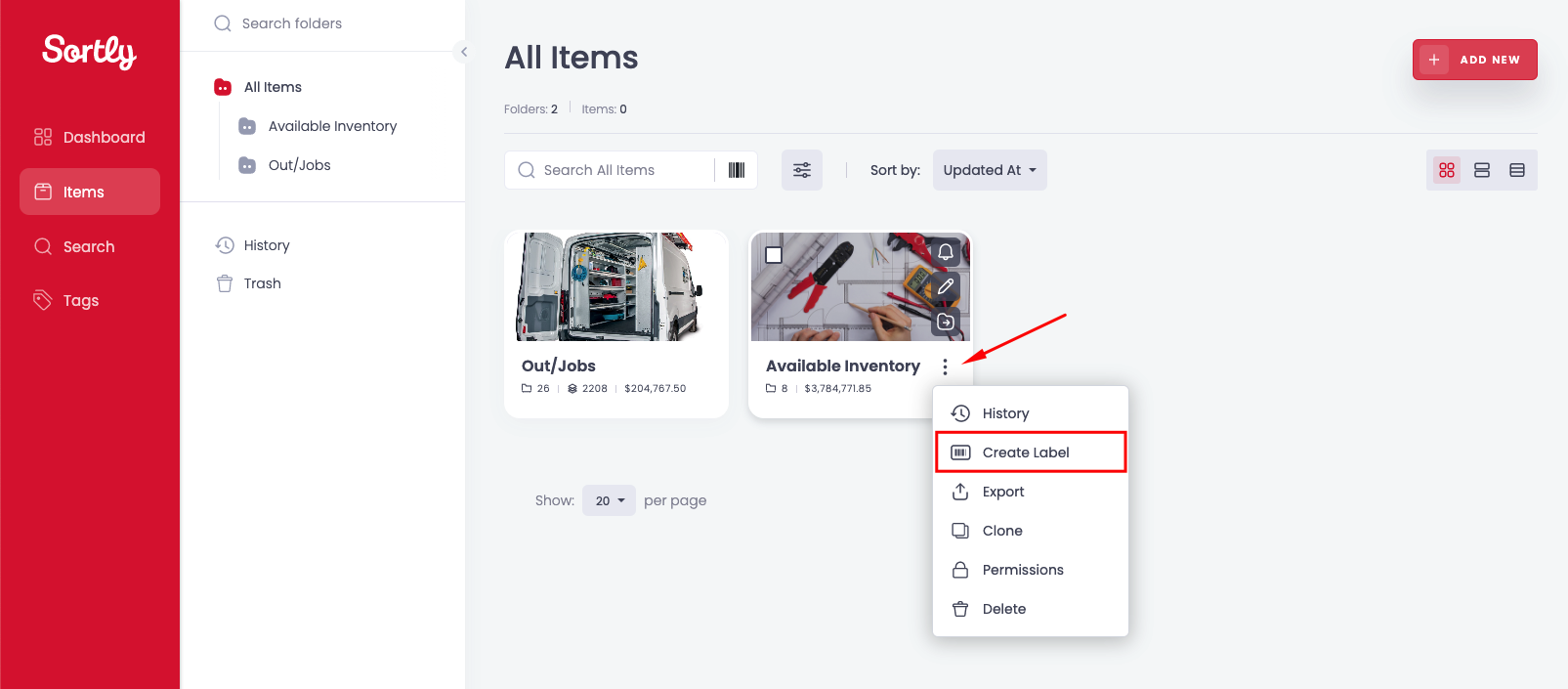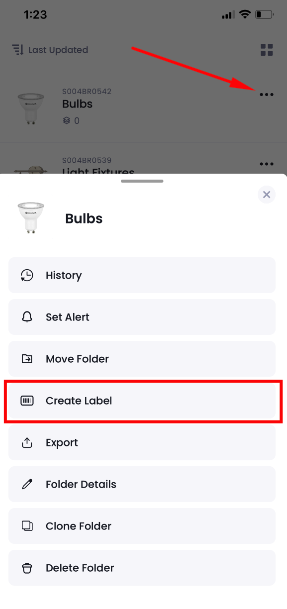 Once you indicate you want to "Create Label," you will be taken to the steps where you pick the paper, size, and attributes included on your label.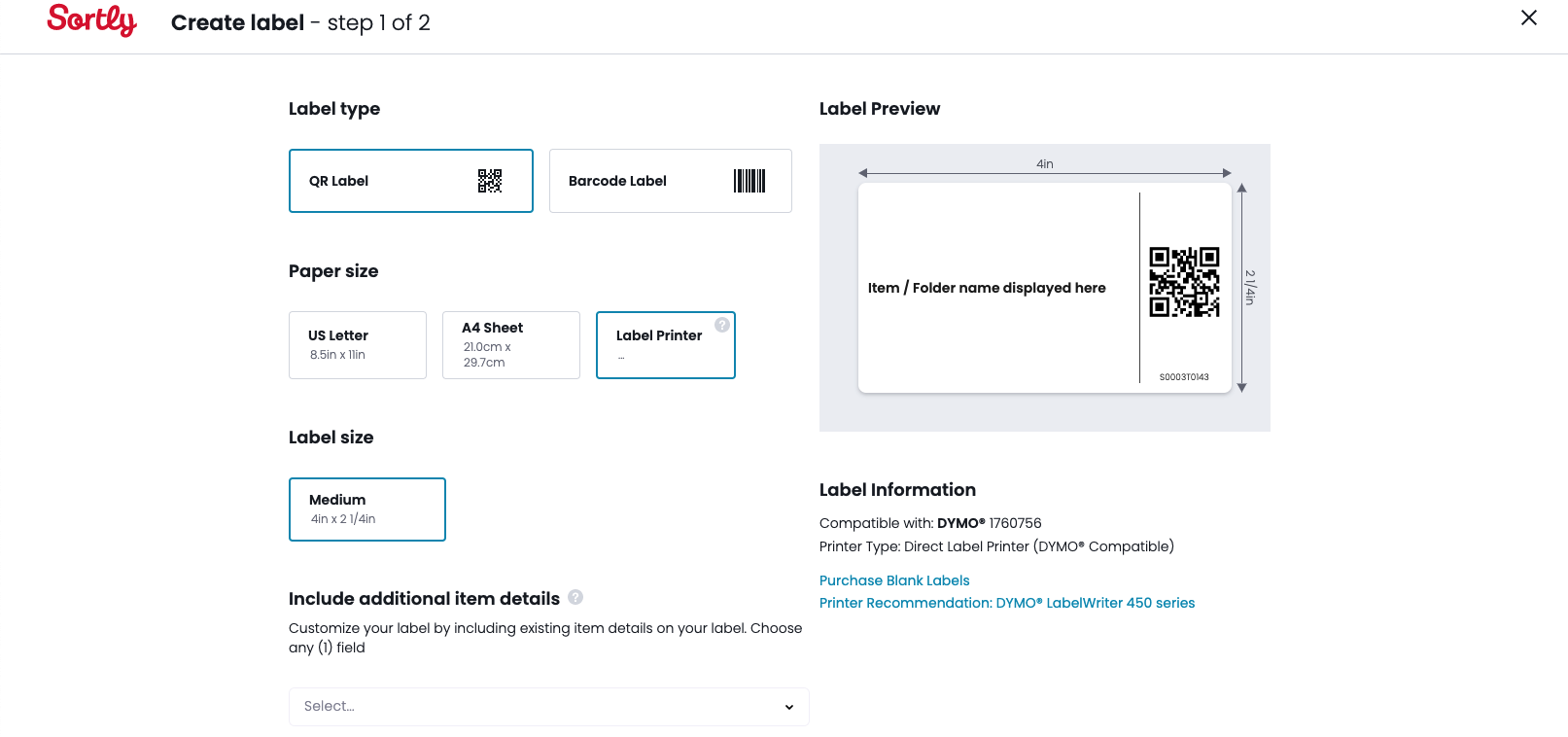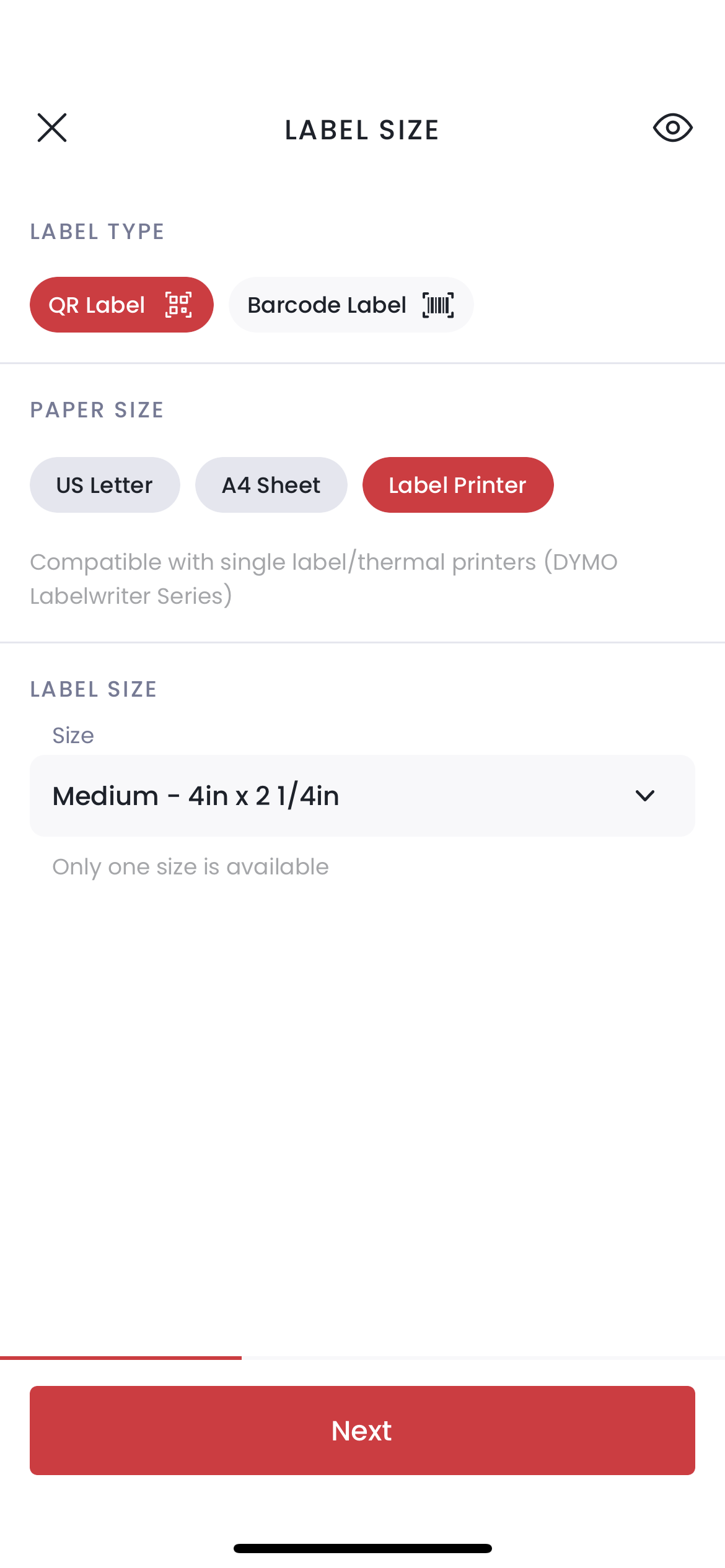 This article focuses on generating a QR label for your item, but if you have the Sortly Ultra plan, you are also able to generate a barcode for your items.

Step 2: Select paper size
Note: Sortly will recommend the correct Avery label sheets based on your selections for paper size and label size. You can purchase the blank (pre-cut) label sticker sheet through Amazon by clicking on the link (if needed).

Step 3: Select label size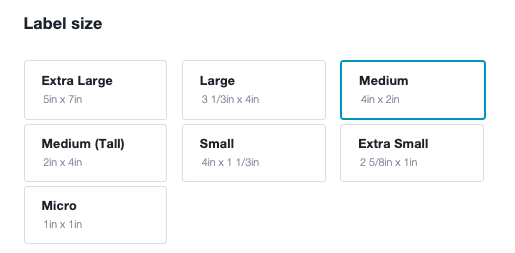 Step 4: Select any item details you want to include
You are able to include notes, price, tags, total value, or you can select the information housed within a custom field you've created to include. At this time, you can only select one of these attributes to print on the QR label.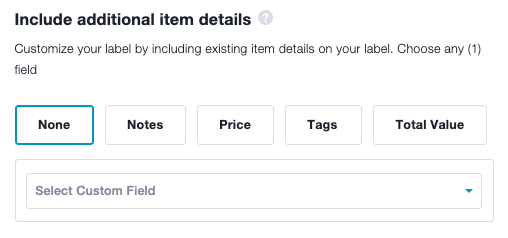 Step 5: If your label type and size supports it, you will have the option to add a photo to your QR label

Step 6:If your label type and size supports it, you will have the option to include your company logo or an icon on your label

Step 7: You can add custom notes to the label you are printing which exists independently of the item details already on the item

Step 8: Once you've selected your attributes to include, please click "Next"
Step 9: Select from the printing options presented on the next page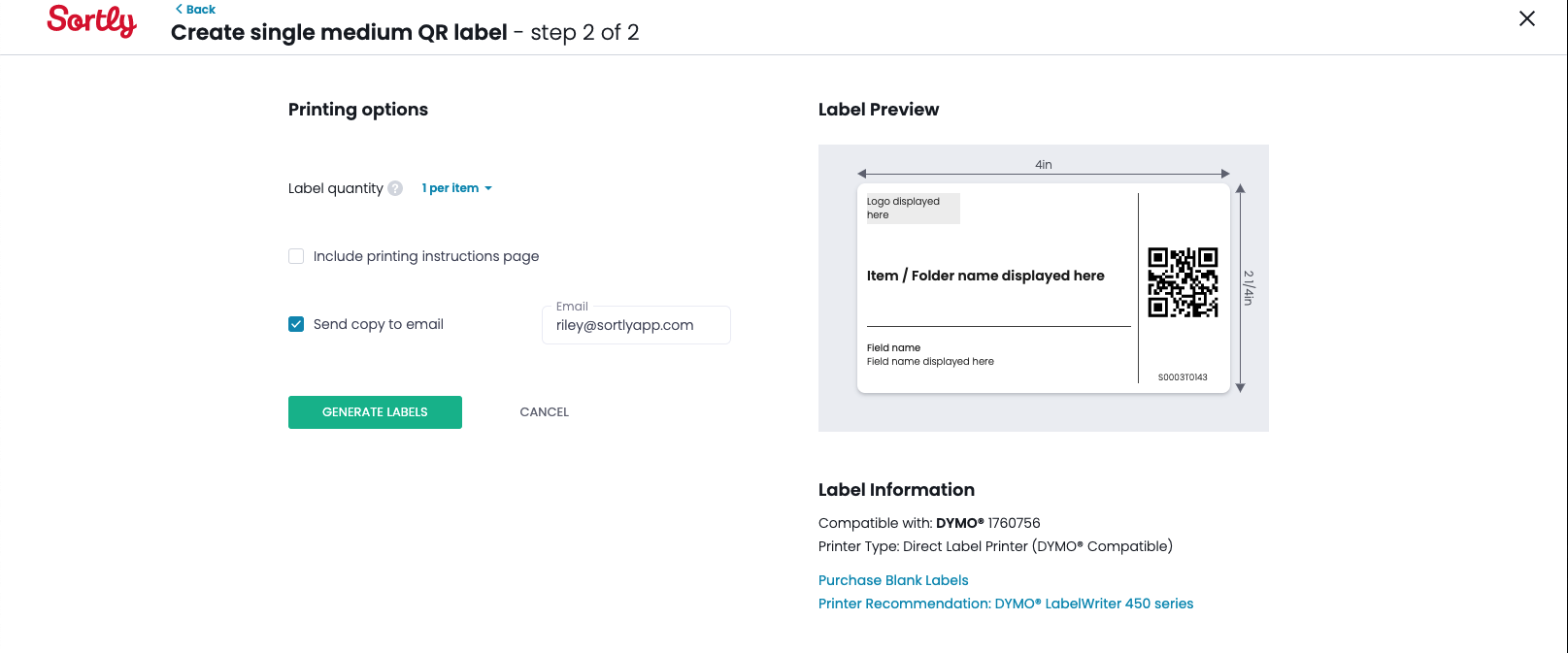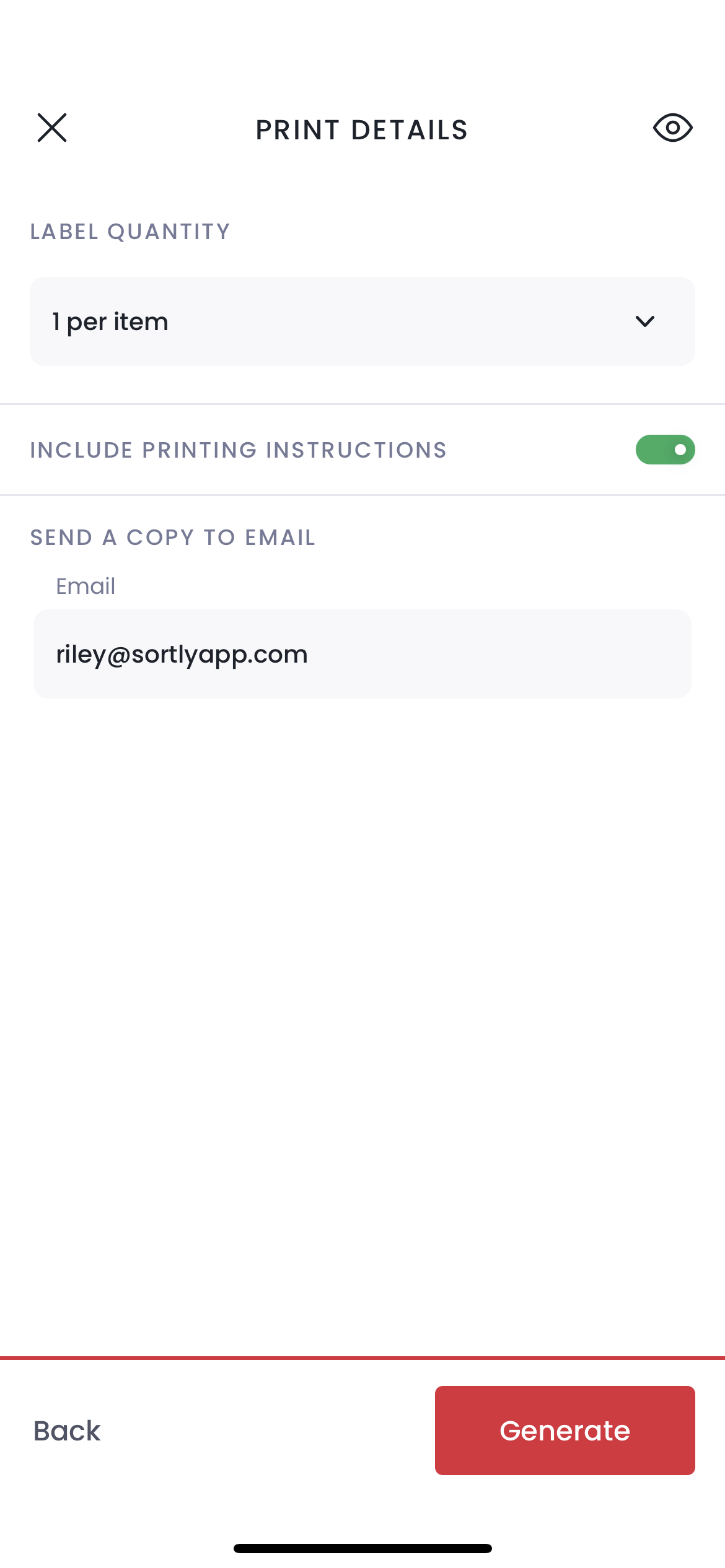 Label quantity: Print multiples of the same labels
Label start position: If you have a partially used sheet of labels, select where you'd like printing to begin to reduce label waste.
Printing Instructions: Check whether you'd like to have a sheet with label instructions generate within the PDF.
Send copy to email: We recommend having a copy of the PDF you generate sent to your email for future printing needs.
Step 10: Click "Generate Labels" and a PDF of your labels will be created and downloaded so that you can print the QR labels on your standard printer based on the attributes you've selected.