The Enterprise plan allows additional user role permissions to help better manage users' access to Items and Folders in Sortly.
This article will outline the following items:
Role Overview
Here's an overview of the different user roles available on the Enterprise plan:
Owner -Access to all folders and settings and the ability to add Role Permissions
Admin -Access to all folders but limited settings (cannot add/manage users, update billing information, or assign Role Permissions)
Member -Access to single or multiple folders. Members can be assigned edit or read-only access for each folder you want them to access.
Custom Role - Access to single or multiple folders. This custom role can be further configured to allow the user to:

Items: Add/Edit Items, Delete Items, Clone Items, Move Items
Folders: Add/Edit Folders, Delete Folders, Clone Folders, Move Folders
You can configure permissions for Custom Role; all other roles are uneditable. If you want to change the user's initial role, please go to Manage Team.
Configuring Role Permissions
To access and manage these role permissions, go to Settings and select Manage Permissions.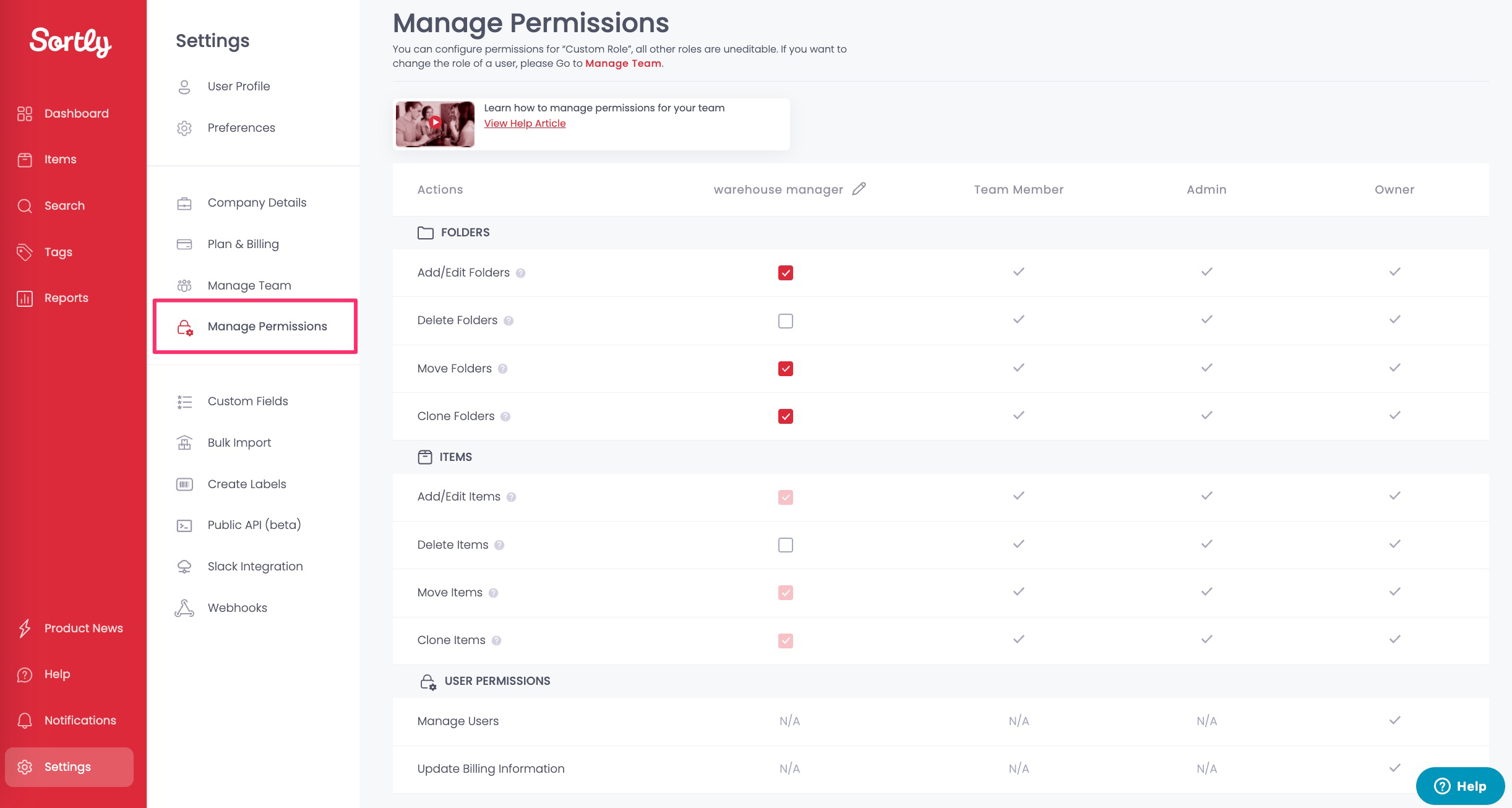 From there, you can name the Custom Role and choose what permissions you want this role to have.
In the example below, the custom role is named Warehouse Manager, and this role can do the following:
Items
Add/Edit Items
Move Items
Clone Items
Folders
Add/Edit Folders
Move Folders
This specific Warehouse Manager custom role cannot Delete Folders, Clone Folders, or Delete Items, as these permission are not 'checked'.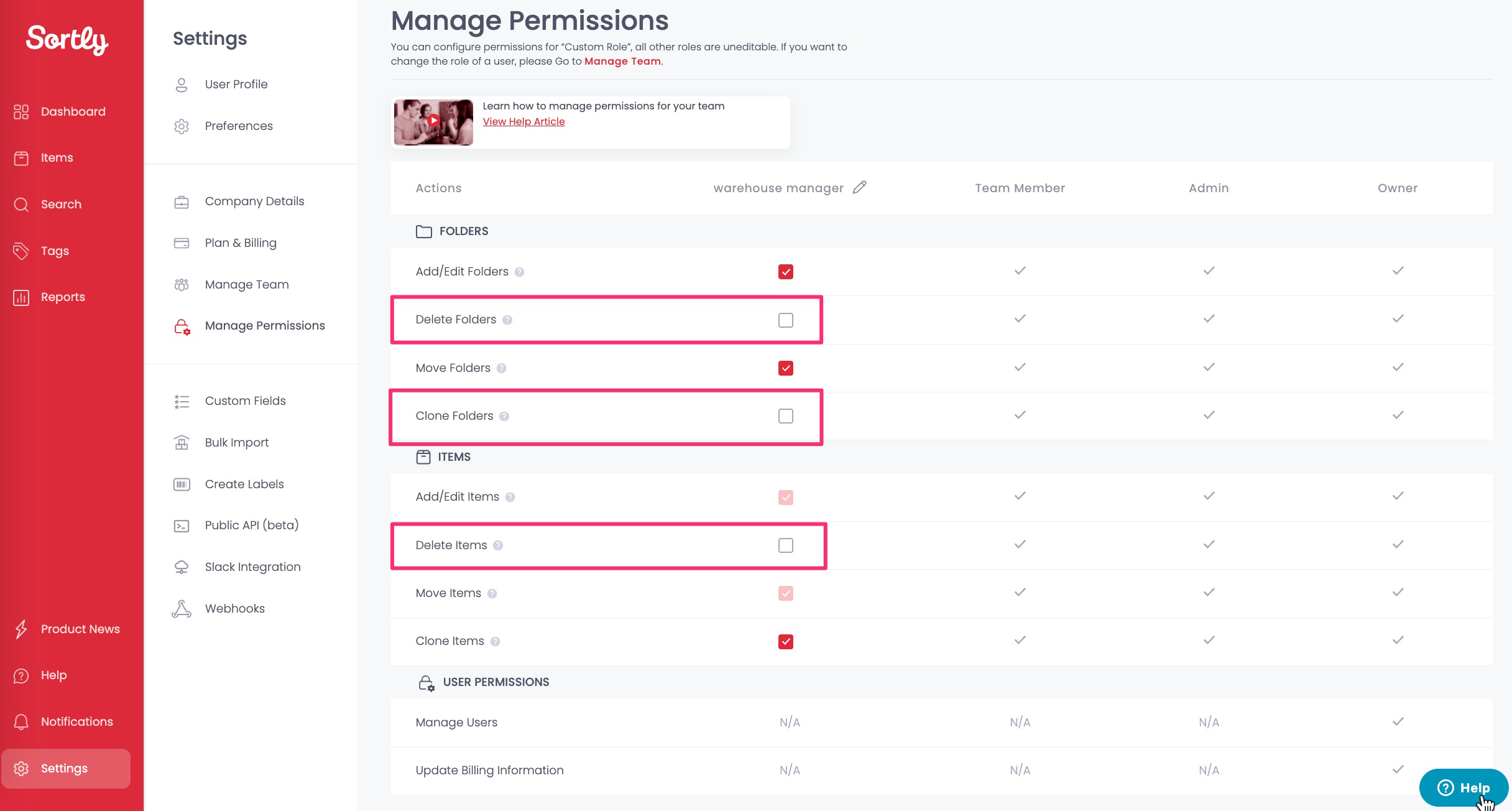 Note: When a user has permission to Clone or Move Folders, they automatically are permitted to Clone or Move Items.
Assigning a Role
Navigate to the Manage Team page to invite/add a new user to your account and assign them a role: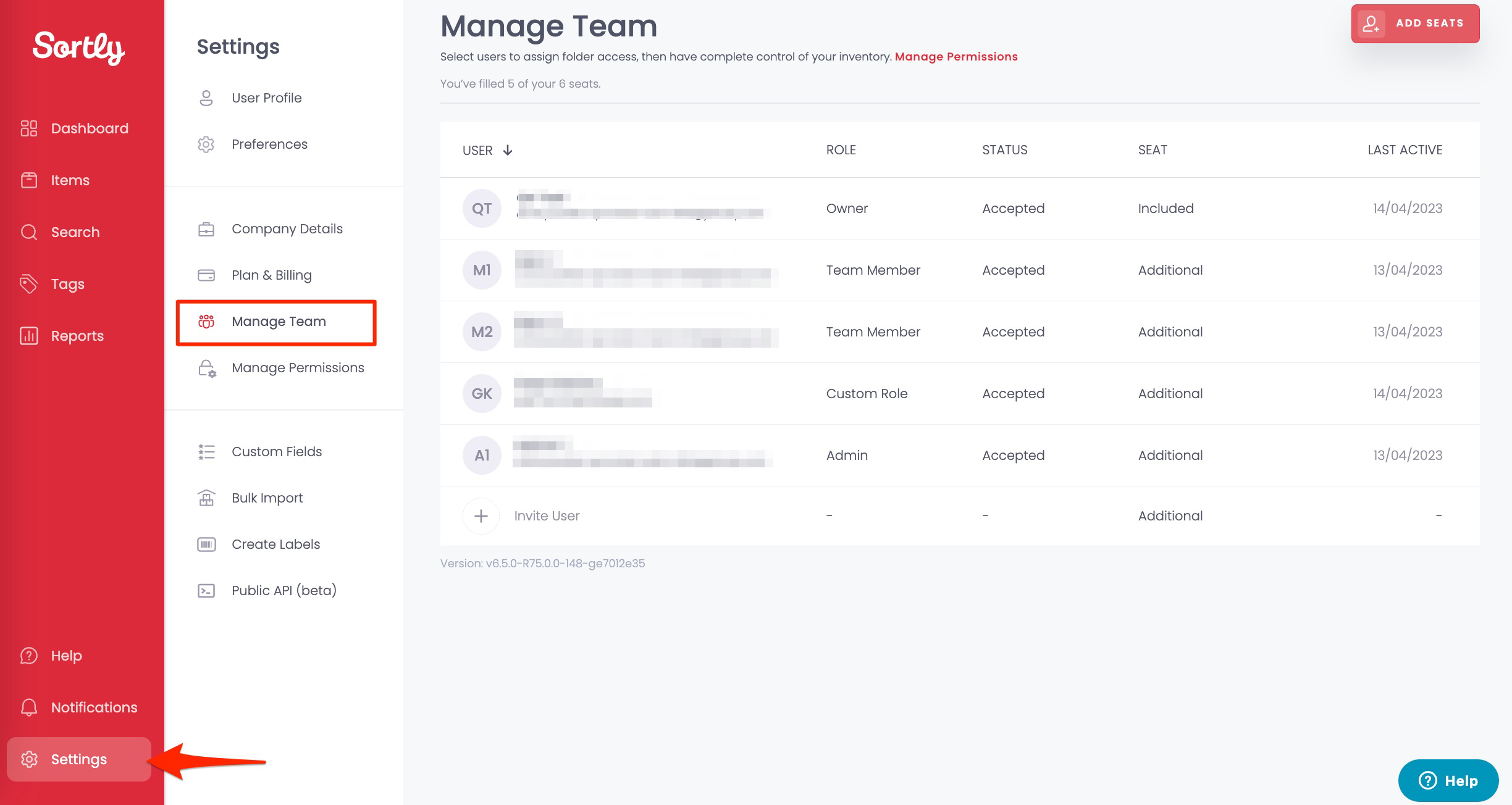 From there, click on Invite User: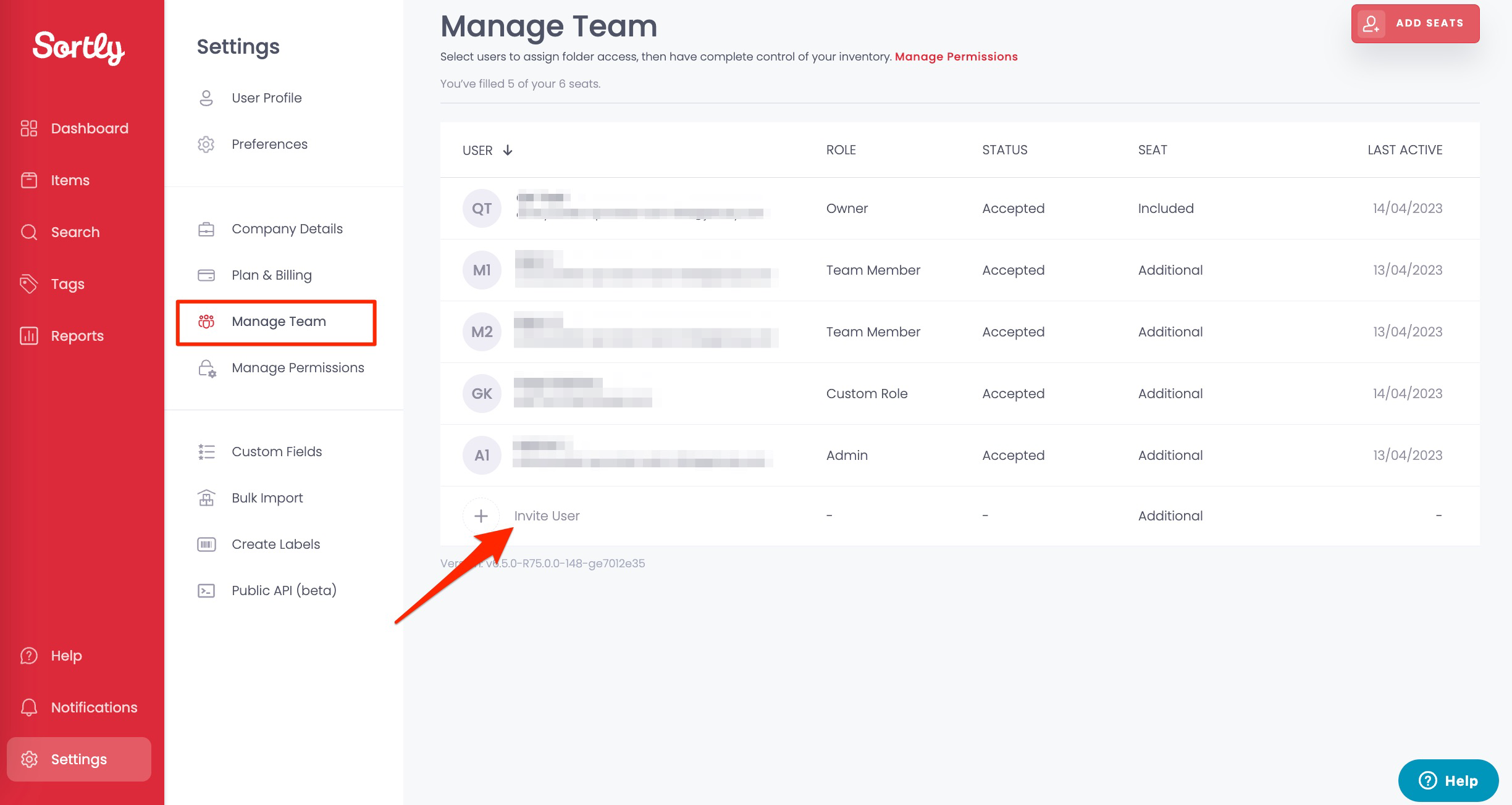 Enter the user's information, including the user's role, and click Send Invite.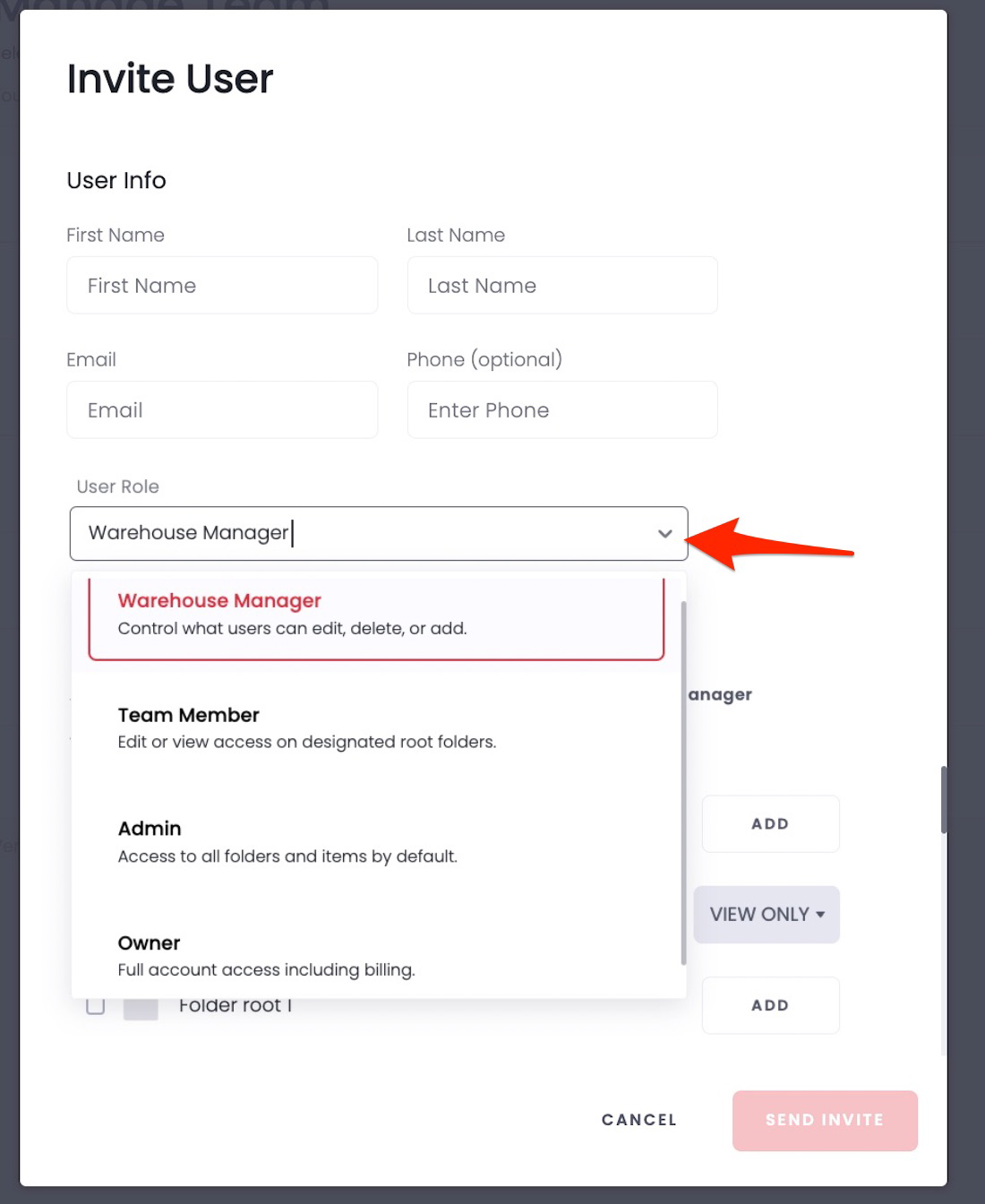 Once you click the Send Invite button, the user will receive an email invite. Once the user accepts the invite, the status will change from Pending Invitation to Accepted.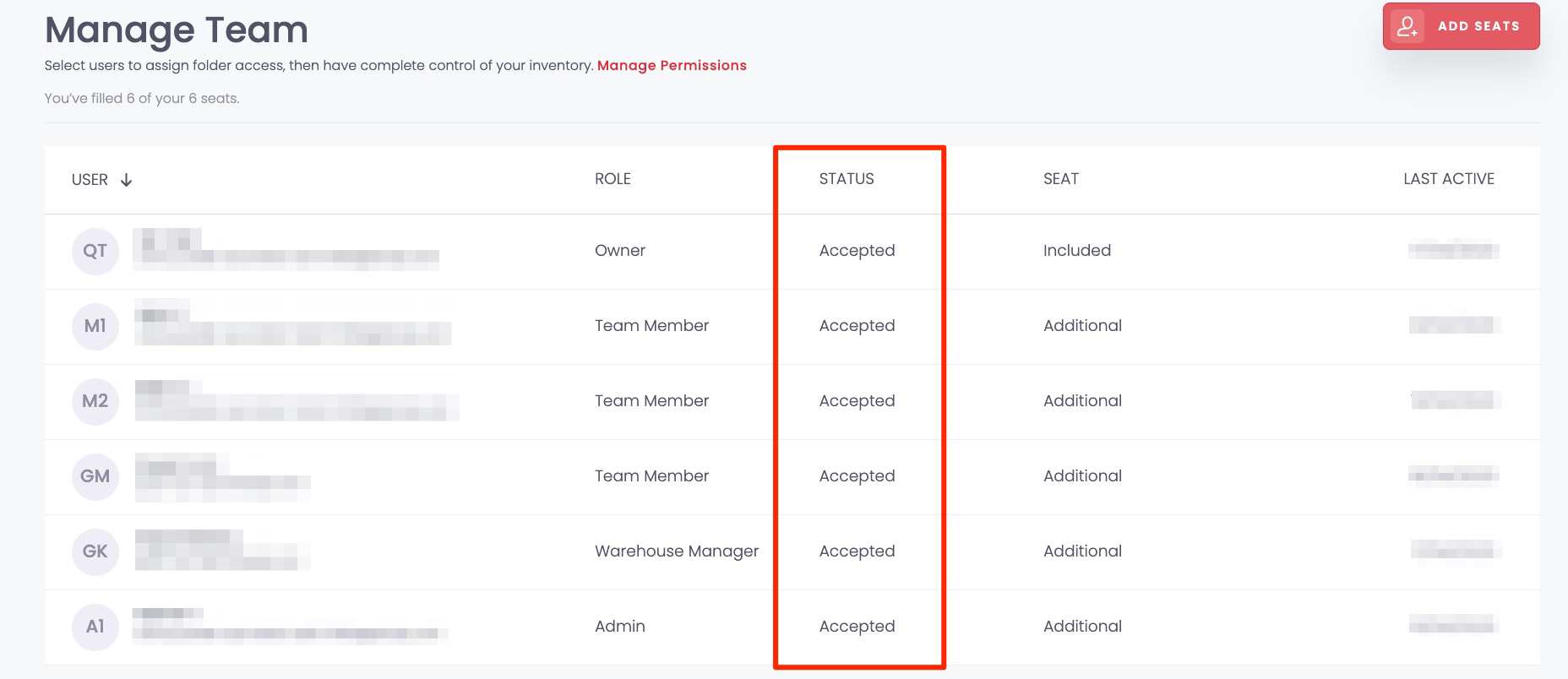 If a user is not receiving the email invite and the status is still Pending Invitation, please have them check their Spam/Junk folder. If they cannot locate the email, please don't hesitate to contact our support team for assistance.
Custom Role Alerts
Users can now assign alerts to their newly created custom roles, ensuring that important information is communicated to the right people at the right time.
Navigate to the item for which you want to generate the alert and click the bell icon
Then, choose the alert type and settings, and choose the Custom Role
Video Walkthrough
For more information on adding this feature to your account, please get in touch with our Enterprise team here: Contact Enterprise.