Easily upload NEW ENTRIES into your Sortly inventory via CSV file using our basic import or advanced import templates. Note: You cannot use the CSV import feature to update your existing items.
Importing your inventory in bulk will save you valuable time and effort if you already have your inventory organized in Excel, Numbers, Google Sheets, or another type of spreadsheet.
Please see the video below for a walkthrough of how to bulk import your new folders and items in Sortly:
Please follow the steps below to import your data in Sortly.
QUICK UPLOAD IMPORT STEPS
Go to Settings > Bulk Import: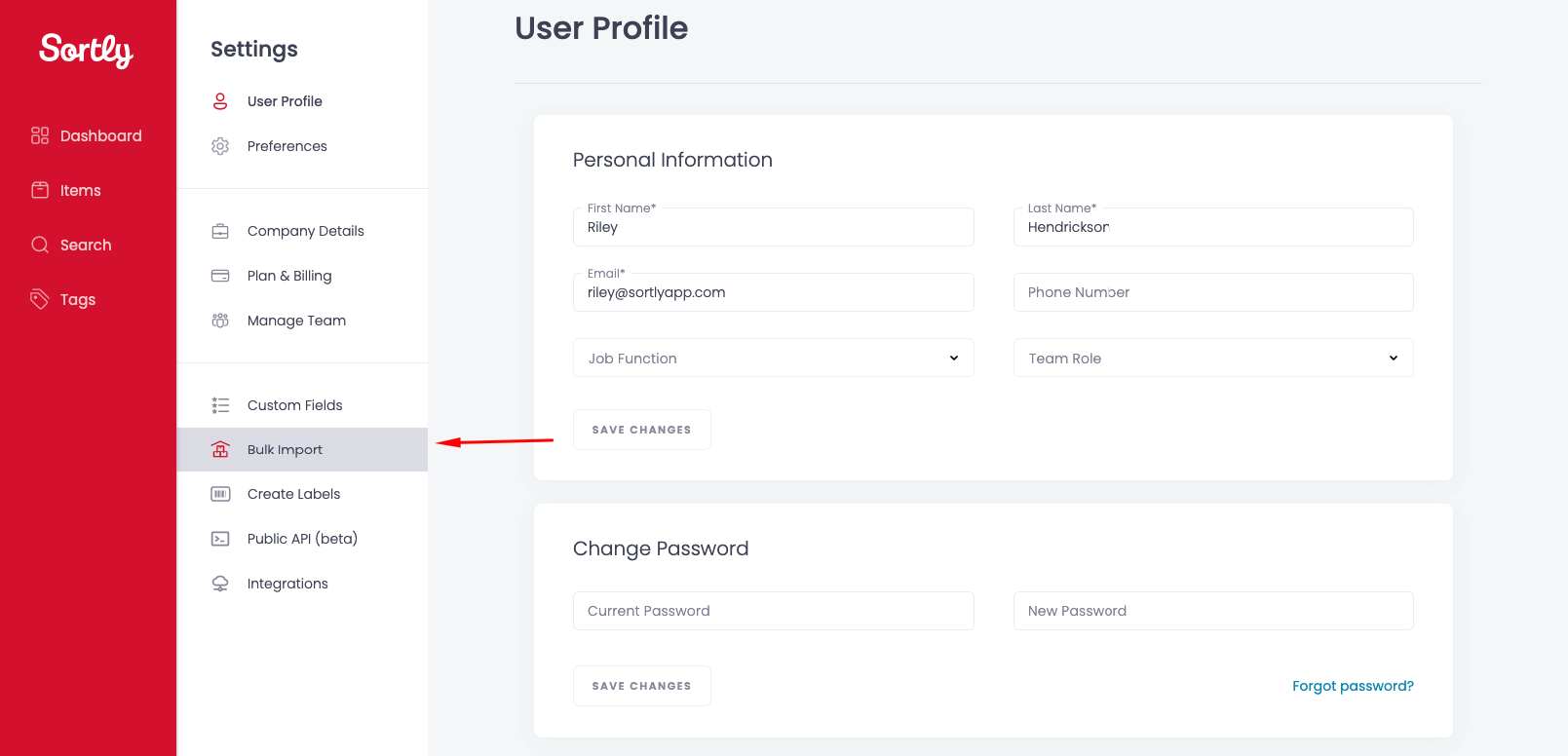 Select "Quick Upload" from the options, as seen below.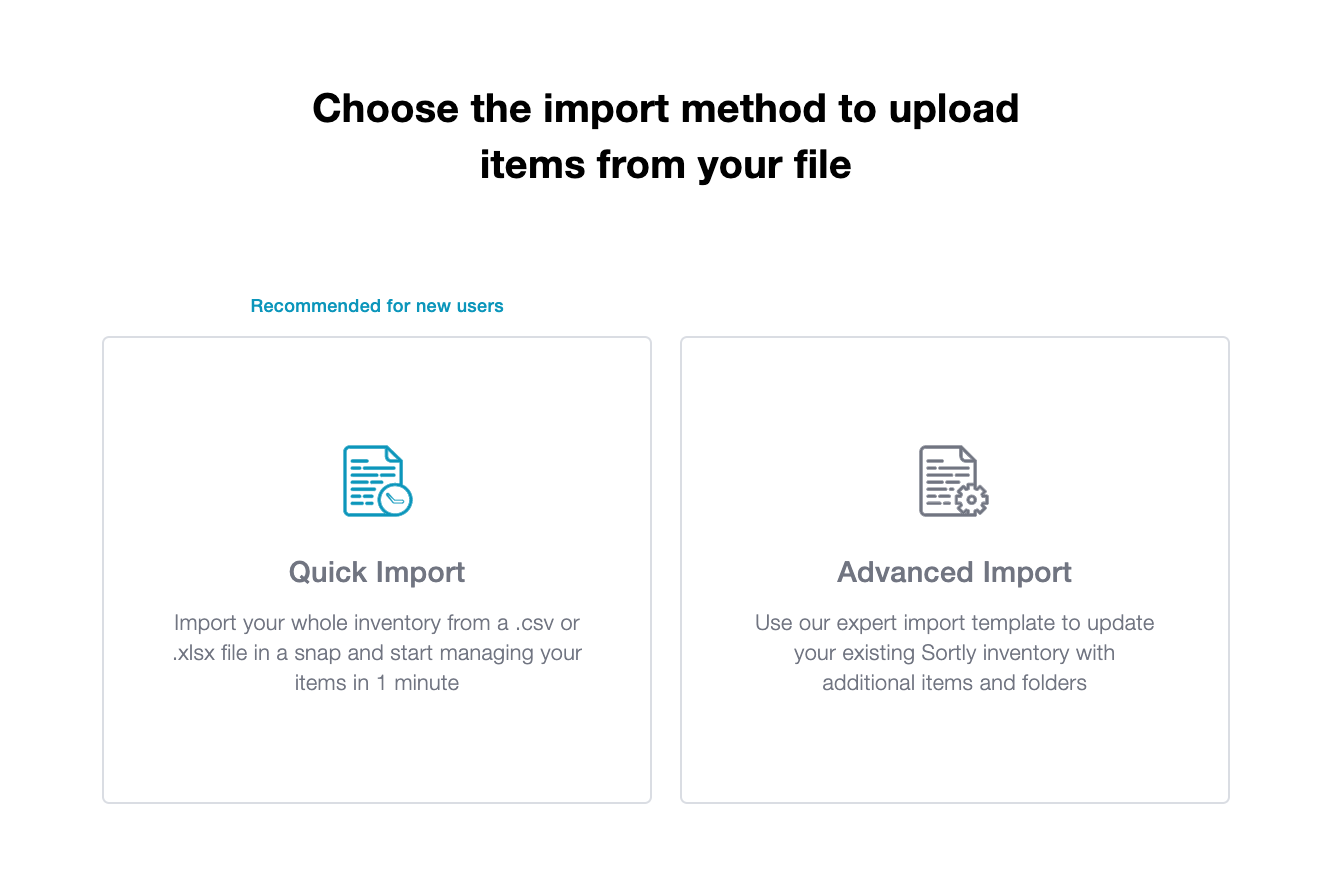 Next, you will be prompted to upload a file. With quick import, Sortly reads the information, so you don't need to use our pre-formatted template (shown in the steps above). You can upload a CSV or XLSX to generate the import, and you'll need to include at least the item name and a quantity.
Once you've added the file, select "Continue."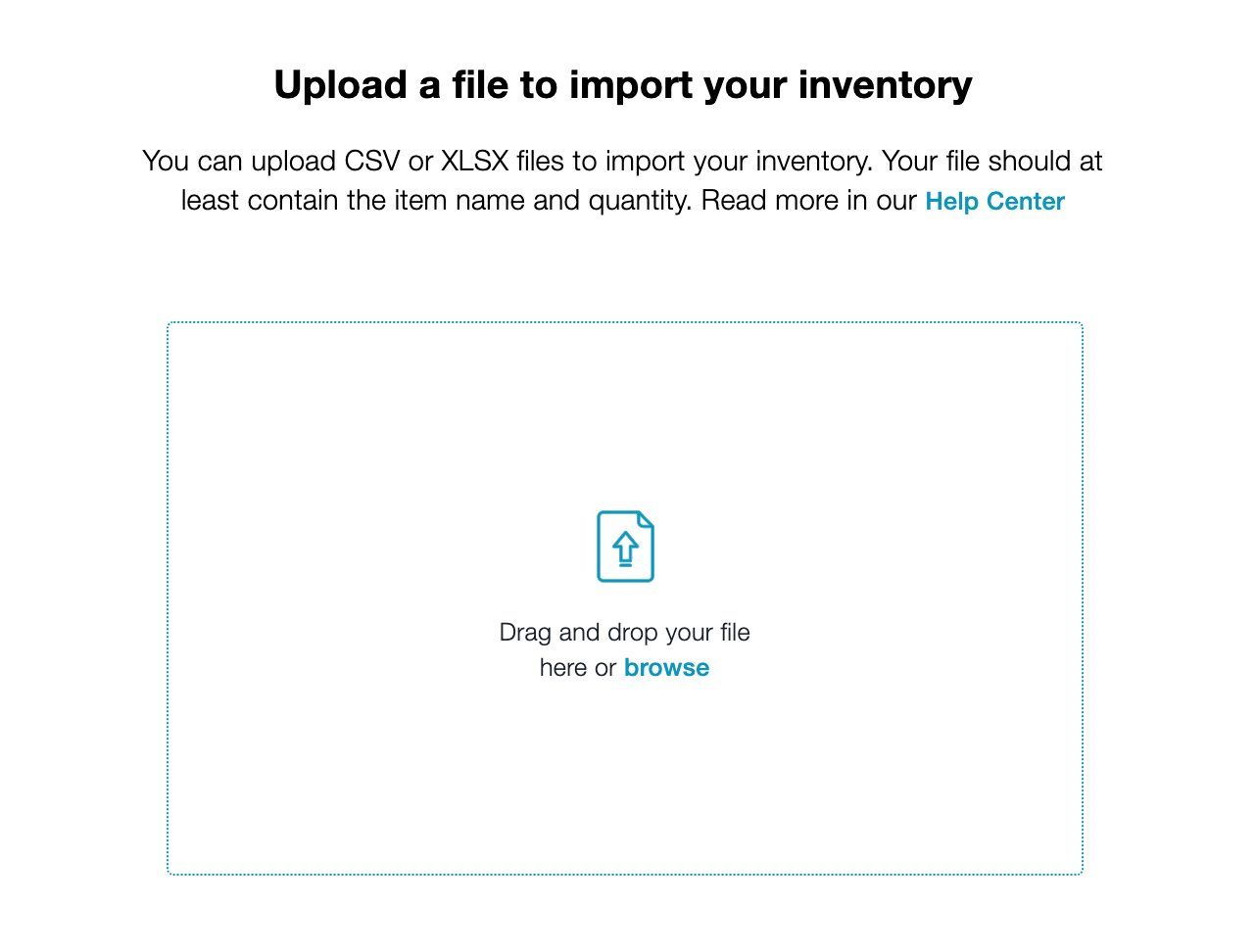 Once your information has been processed, you'll be given the opportunity to map the data Sortly finds to the default fields available and the custom fields you've already set up within Sortly.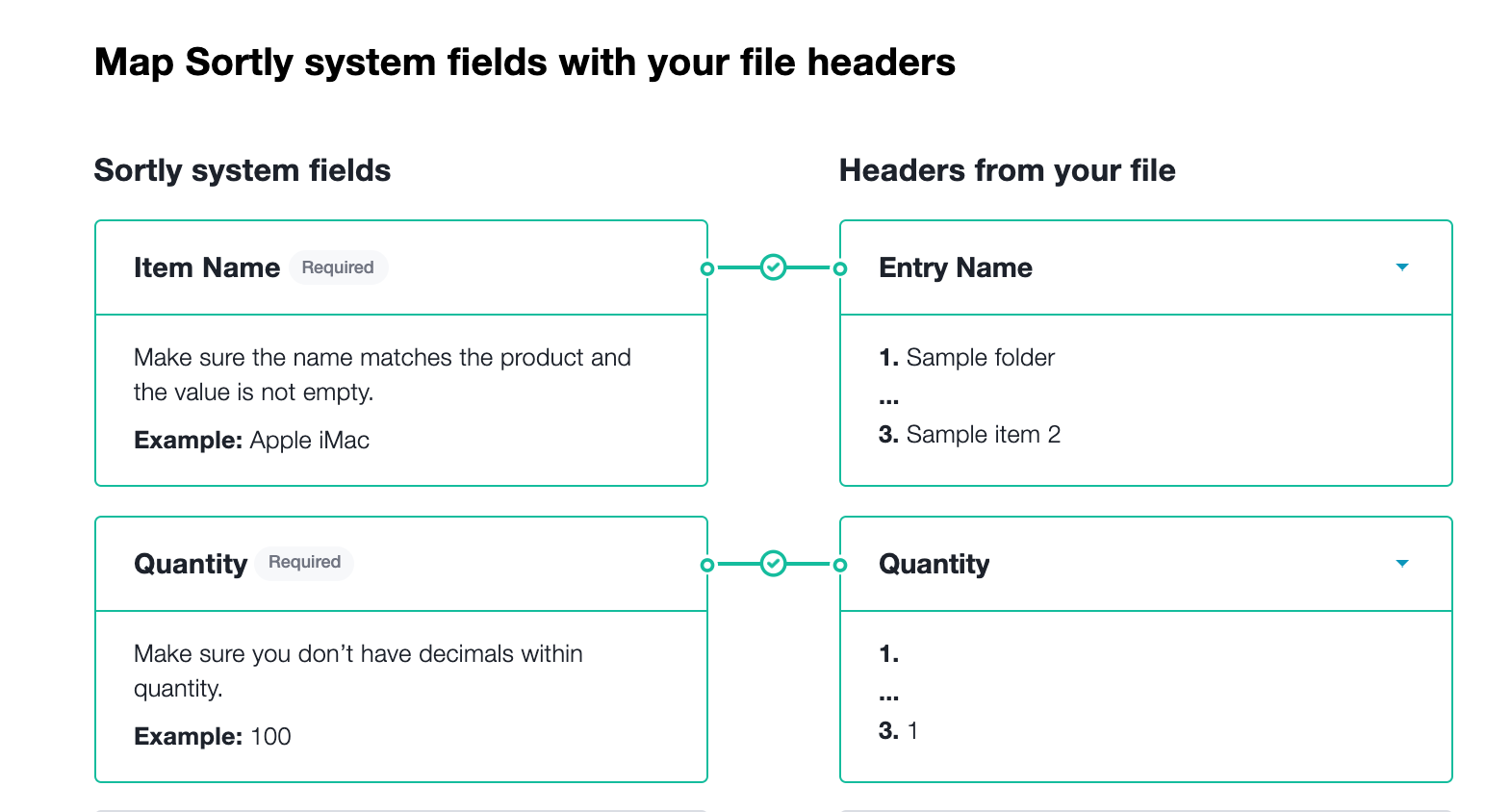 If you have any error messages, we'll ask if you want to go back and correct them or "Skip Errors and Import."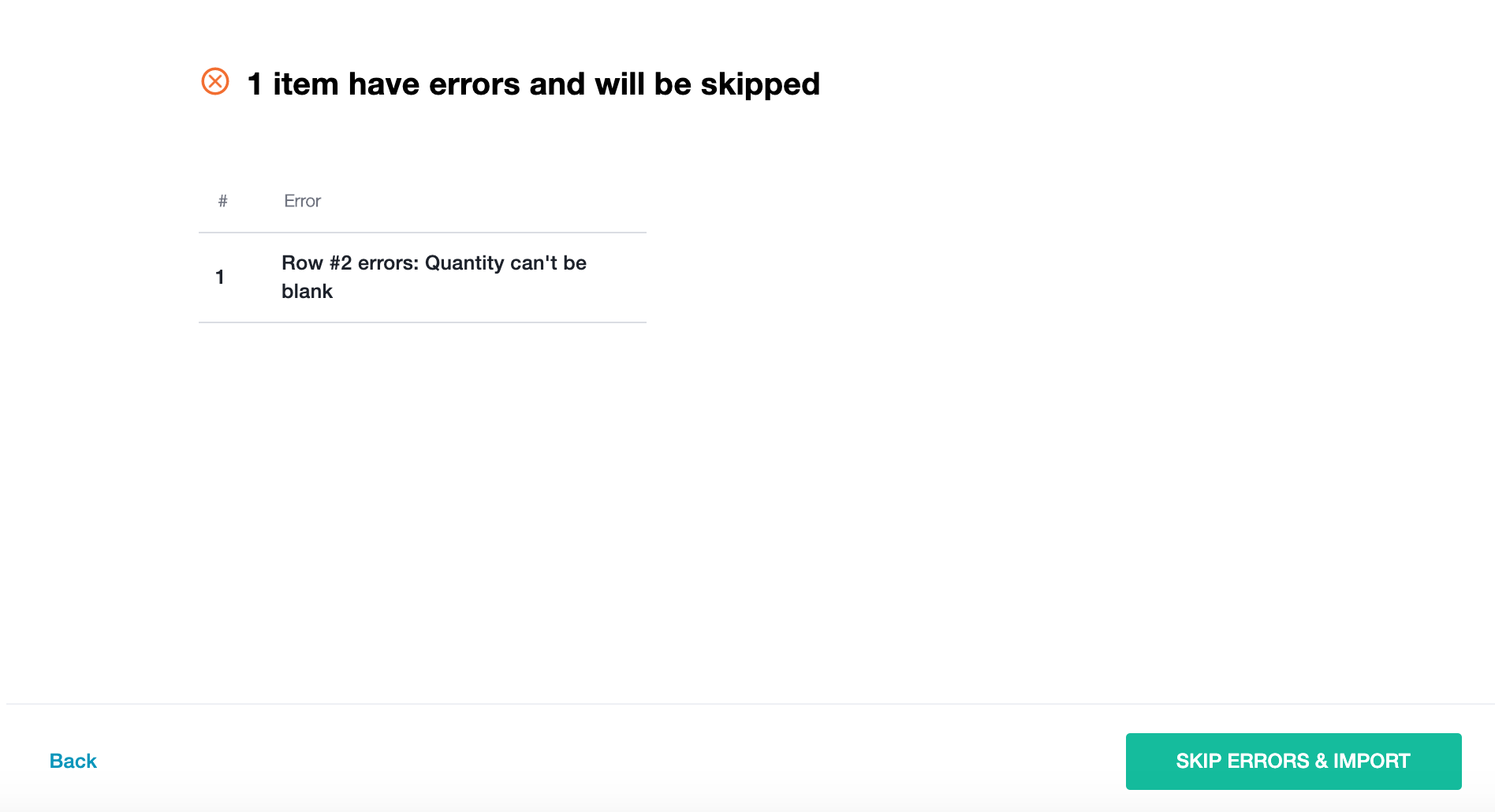 After clicking "Skip Errors and Import" or just "Import" if no errors appear, your information will begin to import into your Sortly account.
Please note, this could take a few minutes depending on the amount of items you are trying to import.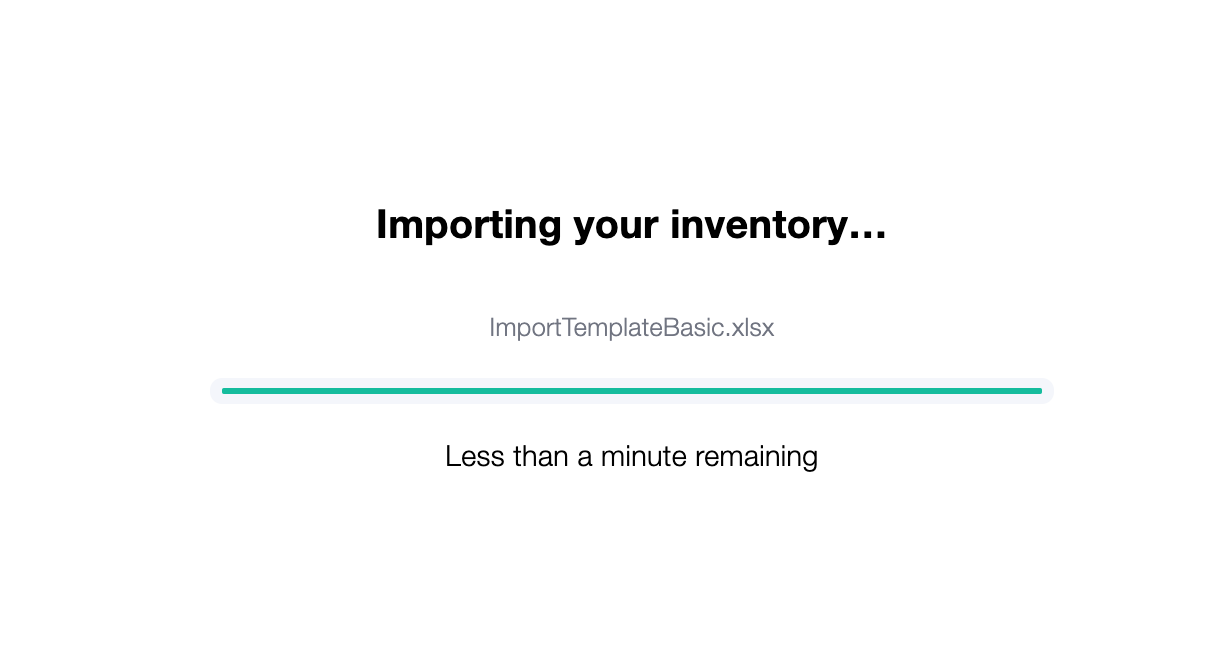 When your items have successfully imported, you'll see this screen: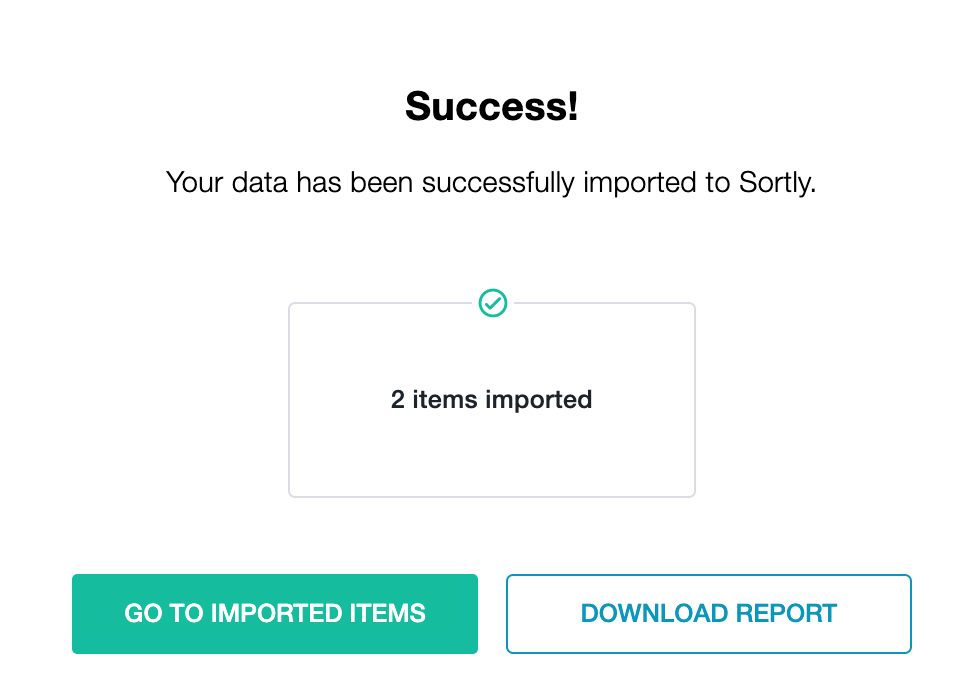 You can click "Go to imported items" to visit your Sortly items page and view the information you've added or you can click "download report" to generate a confirmation spreadsheet of the items and their import statuses.
ADVANCED UPLOAD IMPORT STEPS
Navigate to the CSV import section within the Settings tab here: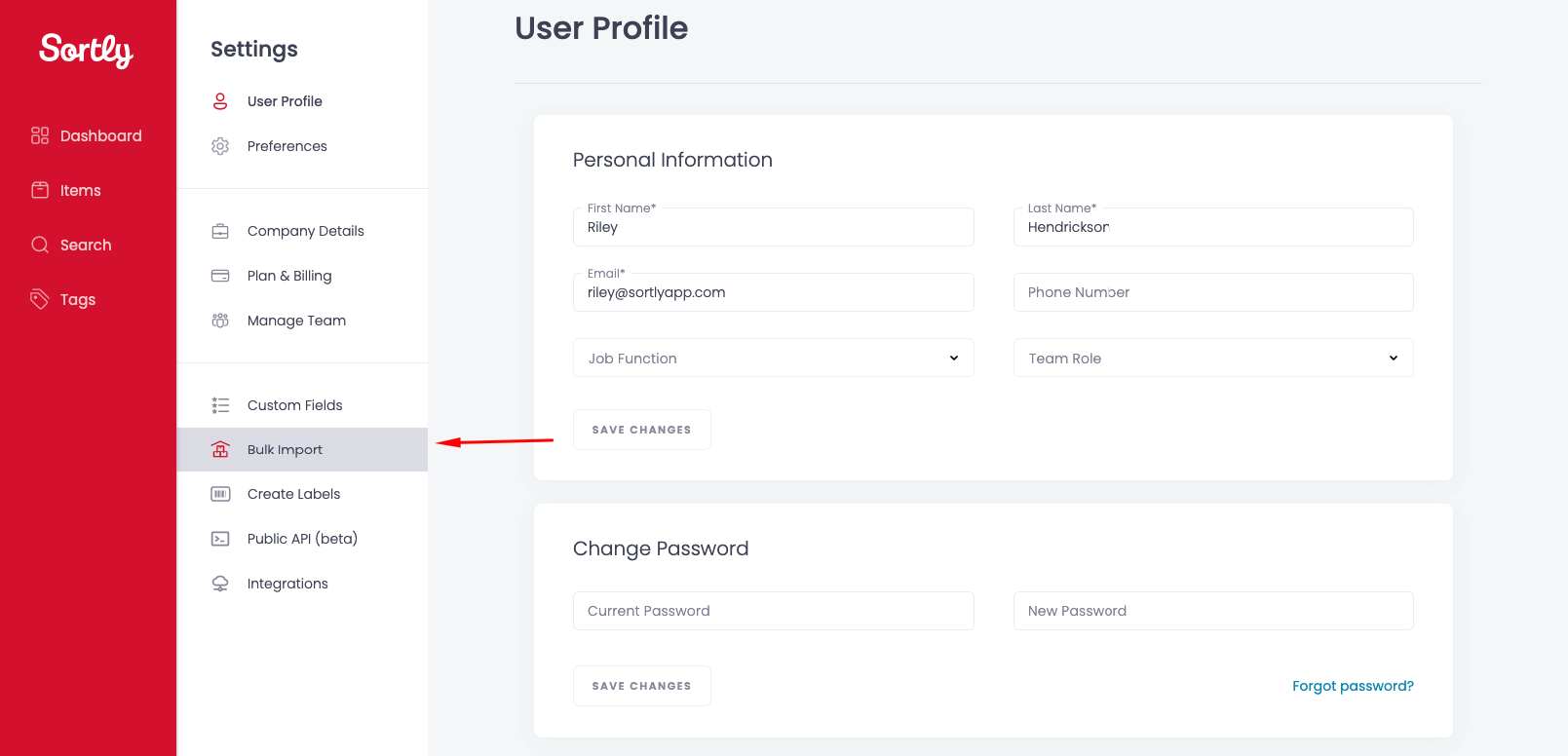 You will then land on the following page and you will want to select the Advanced Import option seen here: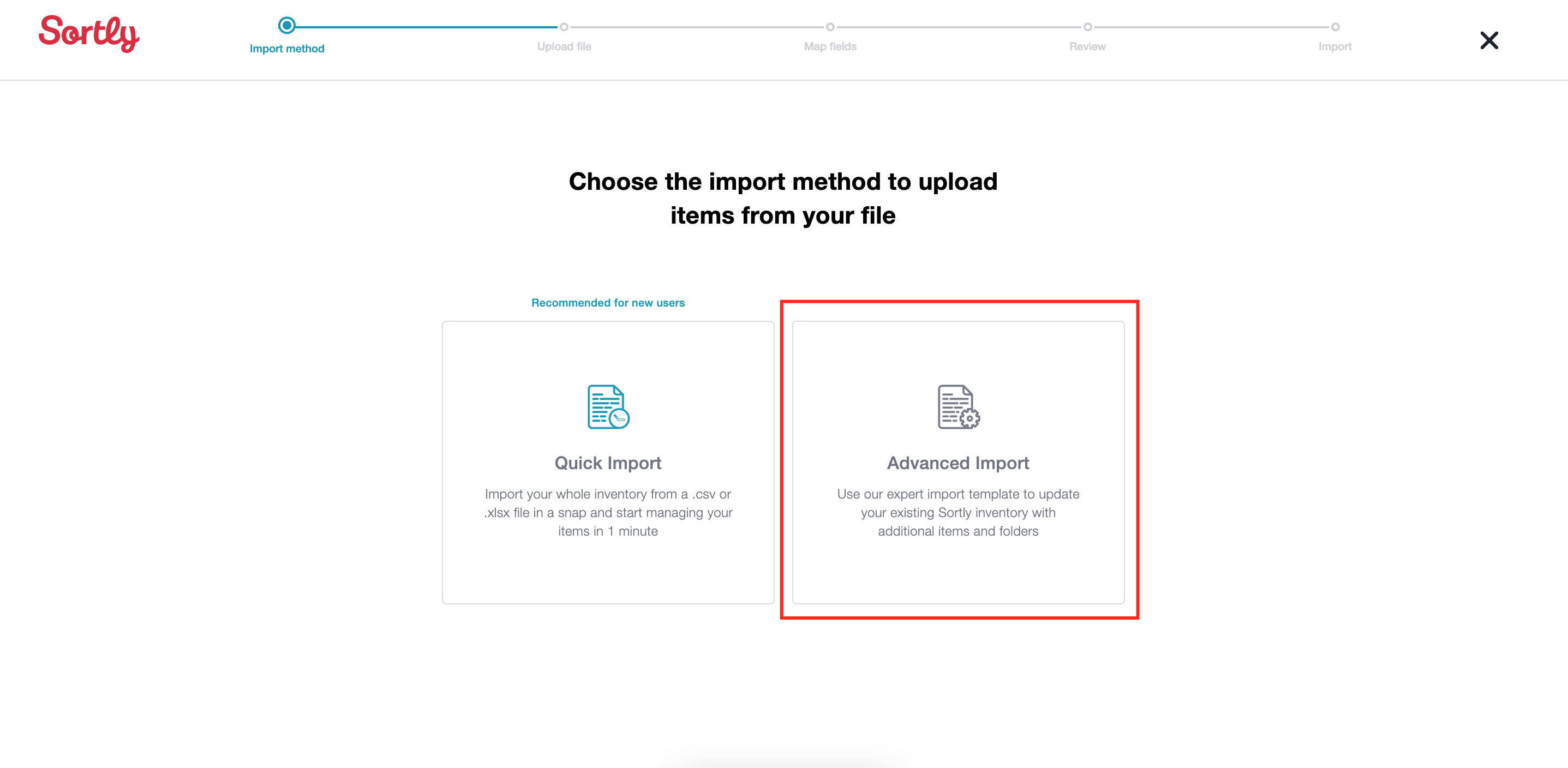 STEP 2 - Download the Sortly import template (BASIC or EXPERT OPTION)
Suggestion: If you are a new user and are not familiar with the Sortly import process, we recommend starting off with the BASIC template.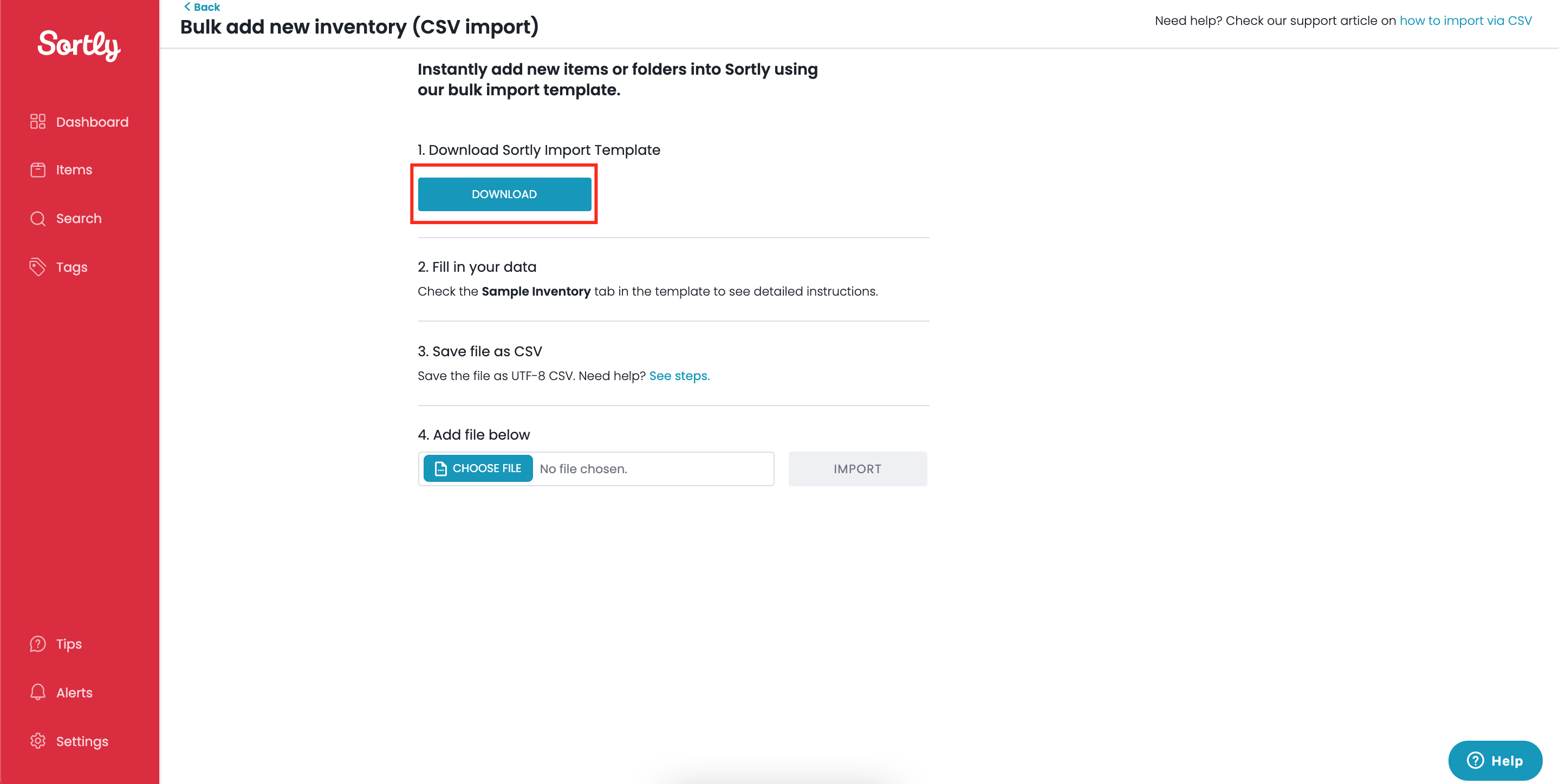 STEP 3 - Add your data into the template
Important Tips:
1. The templates are dynamic and it will always reflect the fields you currently have in the Sortly. To create all the fields you need within the Sortly system before you download the template.
2. Please view the SAMPLE or HELP tabs in the template if you are unsure of what data to enter in each field.
3. Please do NOT change the column names or add new columns or change the order of these columns.
4. If you don't see the columns you need, please add custom fields within the Sortly system first and then re-download the template.
STEP 4 - Save template as CSV
Saving tips:

STEP 5 - Import CSV into Sortly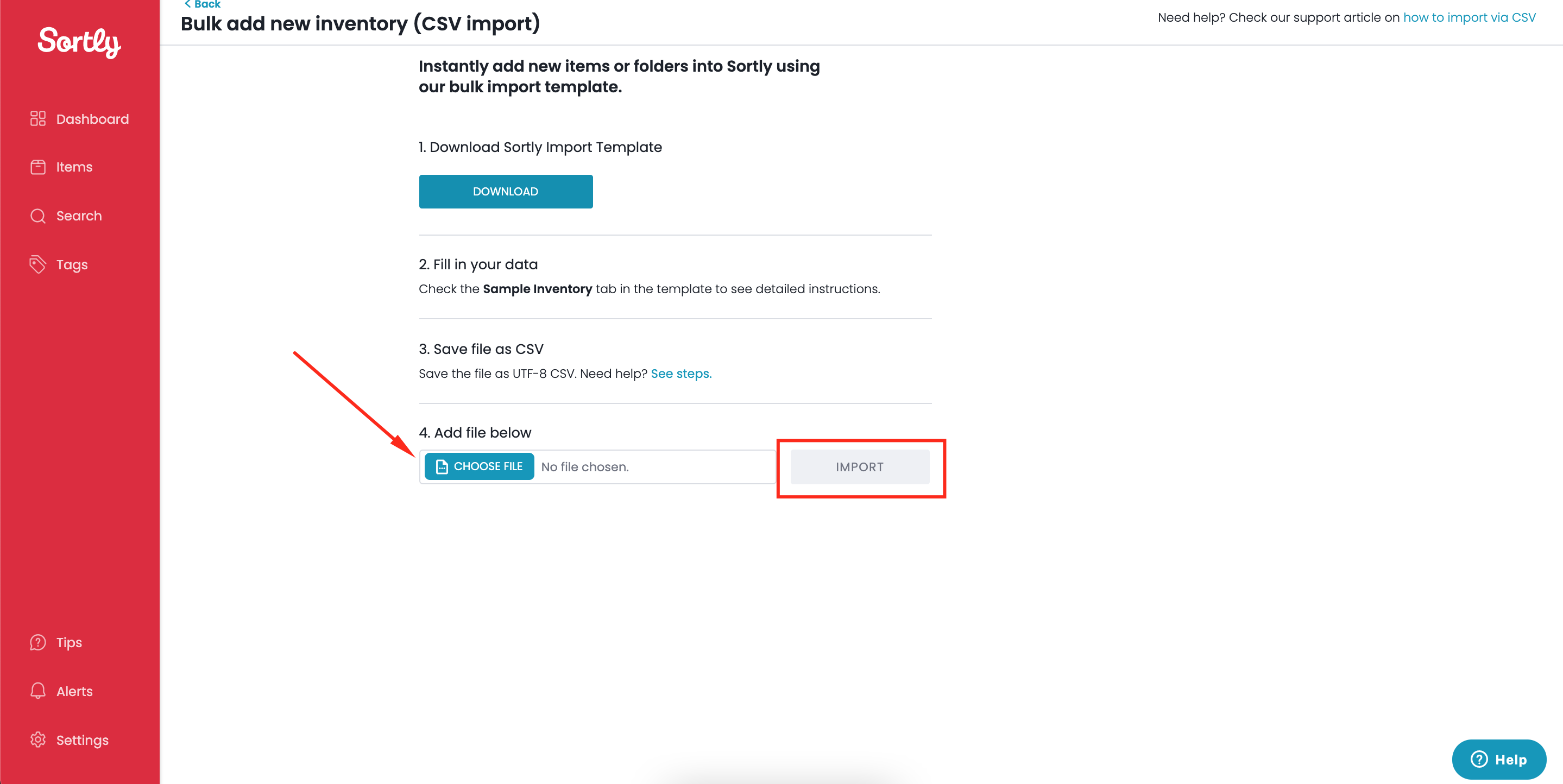 Error Messages for Template Import
In some cases, the Sortly system cannot read the information you have attempted to import. Please review the error messages and make appropriate updates to your CSV and attempt to re-upload.
Please note: If you only receive error messages on some items, the others have likely imported into the Sortly system. If you want to re-upload the entire CSV, please go to your Sortly account and delete the items that did upload, otherwise, you will receive a duplicate error message the next time you try to upload.
You can find detailed instructions on deleting items from your Sortly inventory here.
Upload Failure for Template Import
If you attempt to upload more items and folders than your plan can support, you will be prompted to upgrade your plan. To upgrade your plan, please visit your Manage Plan section in Settings > Billing > Manage Plan.

Note: If your import fails without a clear error message or if it takes over 5 minutes to import, please contact us at support@sortly.com and provide a copy of the CSV file you are attempting to upload.
In the video and instructions below, you'll see how to use the Sortly template to import items directly into Sortly. If you continue scrolling, we'll also provide steps on using the "Quick Import" feature that does not require the use of a template to upload new inventory.