With Sortly's report subscription option, Enterprise users can set up a custom report to run regularly and automatically deliver to their email. This eliminates the need for manual report generation and distribution, saving time and improving efficiency.
If you are not an Enterprise customer and want to learn more, please click here.
Creating a Report Subscription
To subscribe to a report, you'll first need to create a custom report. For more information, please click here: Custom Reports.
Click on the Reports tab and find the Custom Report you would like to subscribe to
Click the Subscribe to Report icon. You can do this from the Reports tab or from inside the Custom Report:

Reports Tab
Inside the Custom Report

You will then be shown options for the report subscription
Review your choices and click SUBSCRIBE

Once you've created your report subscriptions, you can filter the Reports tab to show subscribed reports only.
Editing a Report Subscription
If you need to edit the subscription to change any details, click the Manage report subscription option.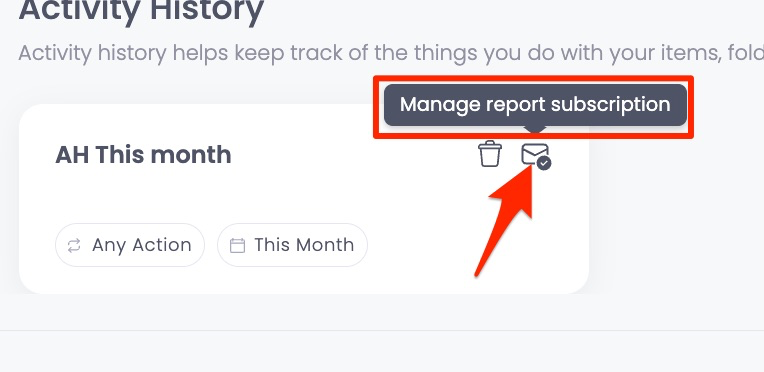 Report Subscription Options
Users can choose from the following options when creating a report subscription:
Format

CSV or XLS

Schedule

Weekly, Monthly, or Daily

Day of the week

Time of day - Options include 8 AM, 12 PM, 4 PM, 8 PM.
If you have any questions about report subscriptions, please click here to contact our Support Team.