Welcome to Sortly -- your simple inventory management software.
The Purpose of this Quick Start Guide
This guide should allow you to get your account configured and set up the first day of using the product.
Using the steps below, you will be able to:
Setting Up Your Folder Structure
Customizing your folders is the first step in organizing your stuff in Sortly. You can create folders (and subfolders) by location, category, or any other classification. Just click on the Add New (+) button on the top right of the All Items dashboard to get started. For example, if you are managing an inventory of items you use on specific jobs, you would set up a folder for "Available Inventory" and separate folders for each job. This could look like the following: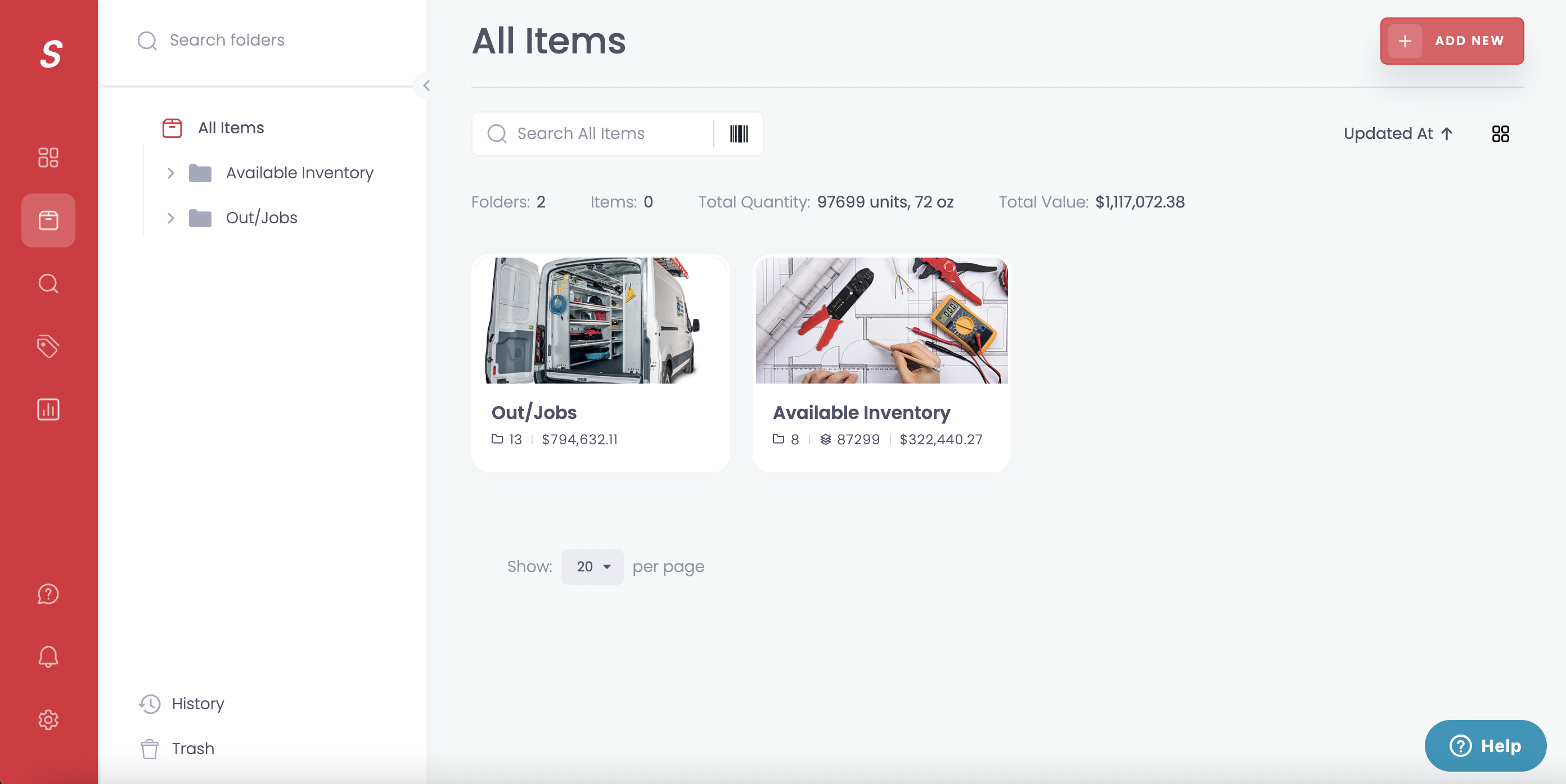 If you are managing items that are moved between different locations or warehouses, you would set up separate folders for each warehouse/location.
You can view how to create and set up folders and items in the short video below:
Sortly users can also take advantage of the dashboard overview on both the desktop and the mobile apps. From a high level, the dashboard is going to have information for the following categories: Inventory Summary, Recent Activity, Recent Items, and Stock Levels. You can view more in-depth information here: Dashboard overview.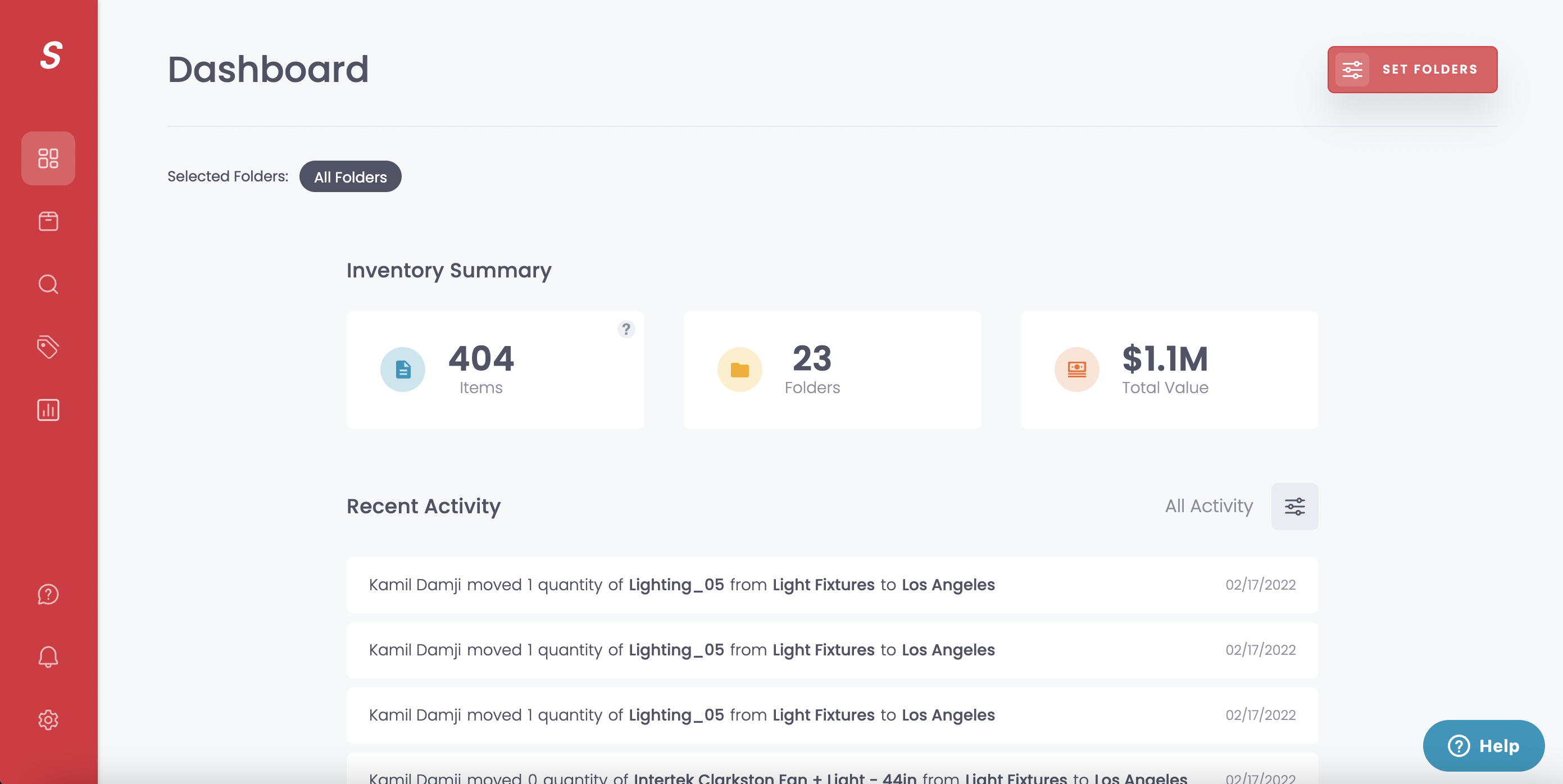 Add Custom Fields to Track Item Attributes
Custom fields in Sortly are useful for tracking any item or folder-related details in Sortly that are not readily available in the default fields provided, such as serial numbers or expiry dates. Adding a custom field is possible only on the Desktop version of Sortly.
Note: Sortly Free plan users can add up to 1 custom field, Sortly Advanced plan users can add up to 10 custom fields and Ultra customers can add unlimited custom fields.
See the articles below to view the types of custom fields you can use to track your inventory, and how to set them up.
Import your existing inventory via bulk upload
While you are able to able to easily add new items to your inventory manually by selecting "Add Item" and following the steps outlined here, you can also use our Bulk Import feature to upload multiple items at once. The video and article below will guide you through how to upload new entries into your Sortly inventory via CSV file using our basic import or advanced import templates, and learn to update your inventory once you have done so.
Once you have added your new items to your inventory manually or via CSV import, there are a few different ways you can update your existing inventory. Keep in mind that you can only use CSV import to create new items, but not to update existing items.
You can update items that you have moved from one job or location to another by moving items between folders. Follow the steps outlined in the article below to learn how to do this:
Keep in mind that if you are using Sortly for a consumption or asset tracking use case, instead of moving items from one folder to another, you would want to update quantities and list a "reason" for the quantity change (i.e. consumed, sold, restocked, etc.) here: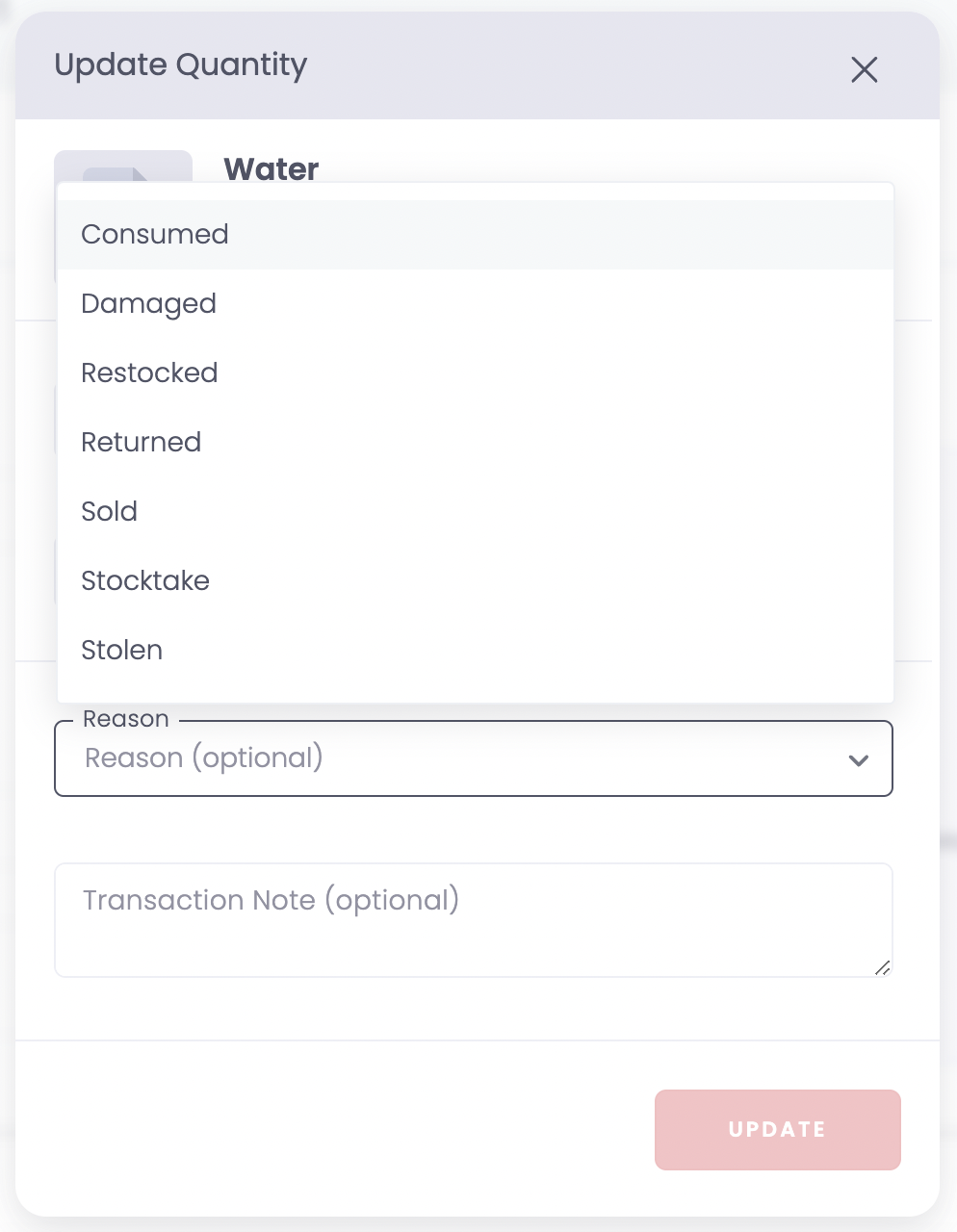 If you are using your Sortly mobile app to update items, you can use Quick Actions to move or delete items, update item details, add tags and set item alerts.
Set Up Quantity or Date-Based Alerts
With Sortly, you can easily set up date-based reminders to alert you or your team of important dates related to your items (Eg: Expiry dates, item return dates, maintenance reminders, etc). You can also easily set up alerts on individual items or in bulk to notify you or your team when stock/item quantities hit a minimum threshold.
Fill Your User Seats to begin collaborating with your team
With Sortly Advanced or Ultra plans, you can give team members, employees, or customers limited or full access to your inventory.
Every new user must be assigned a role so they only interact with the inventory that is relevant to them. (Learn more about the 3 user roles here).
See the video below:
Steps for adding a new user/customer
1. Go to the Settings section and select "Manage User" (https://app.sortly.com/manage-members)

2. Click on "Invite User"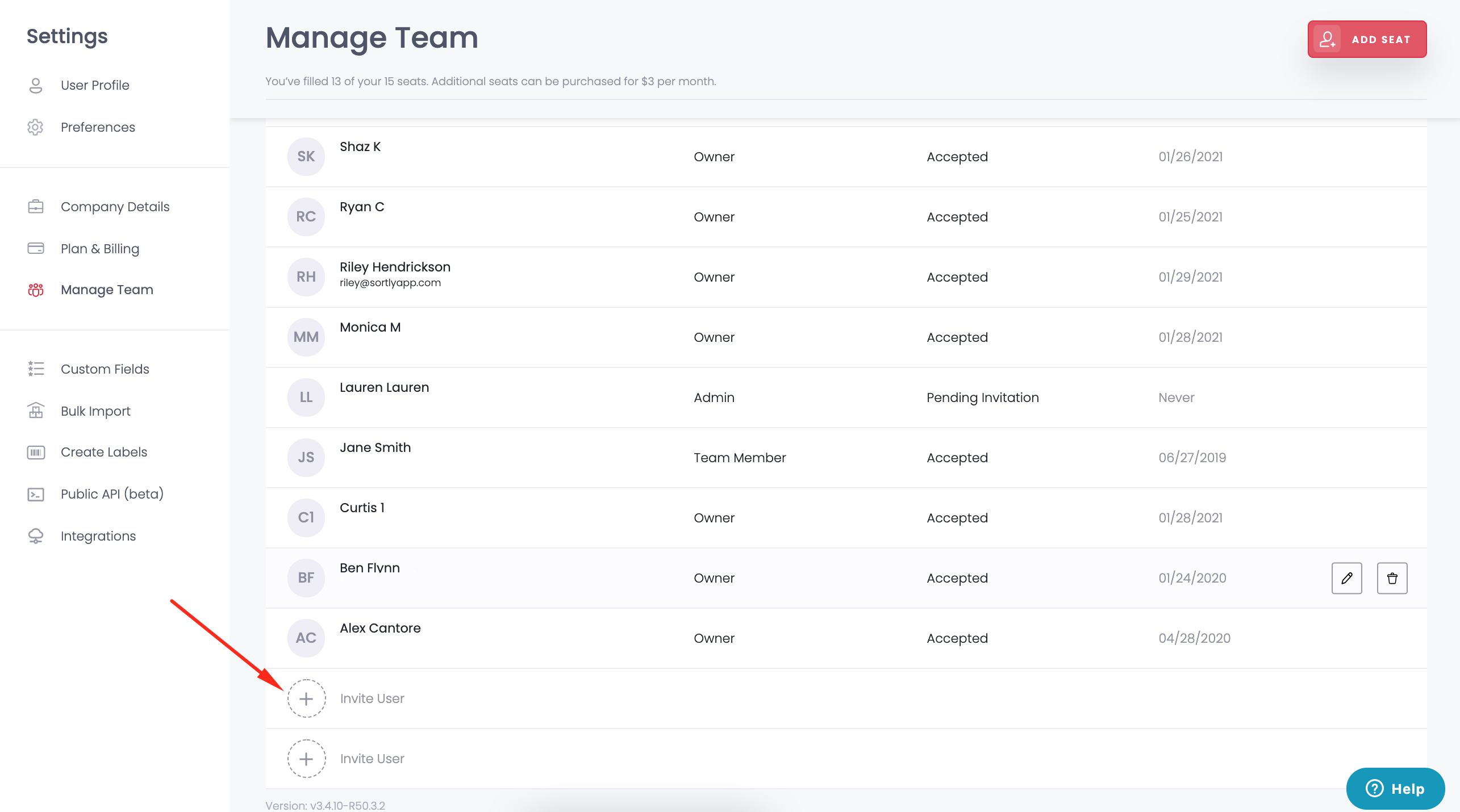 3. Add User details, Assign a Role, and click invite. (Learn more about the 3 user roles here)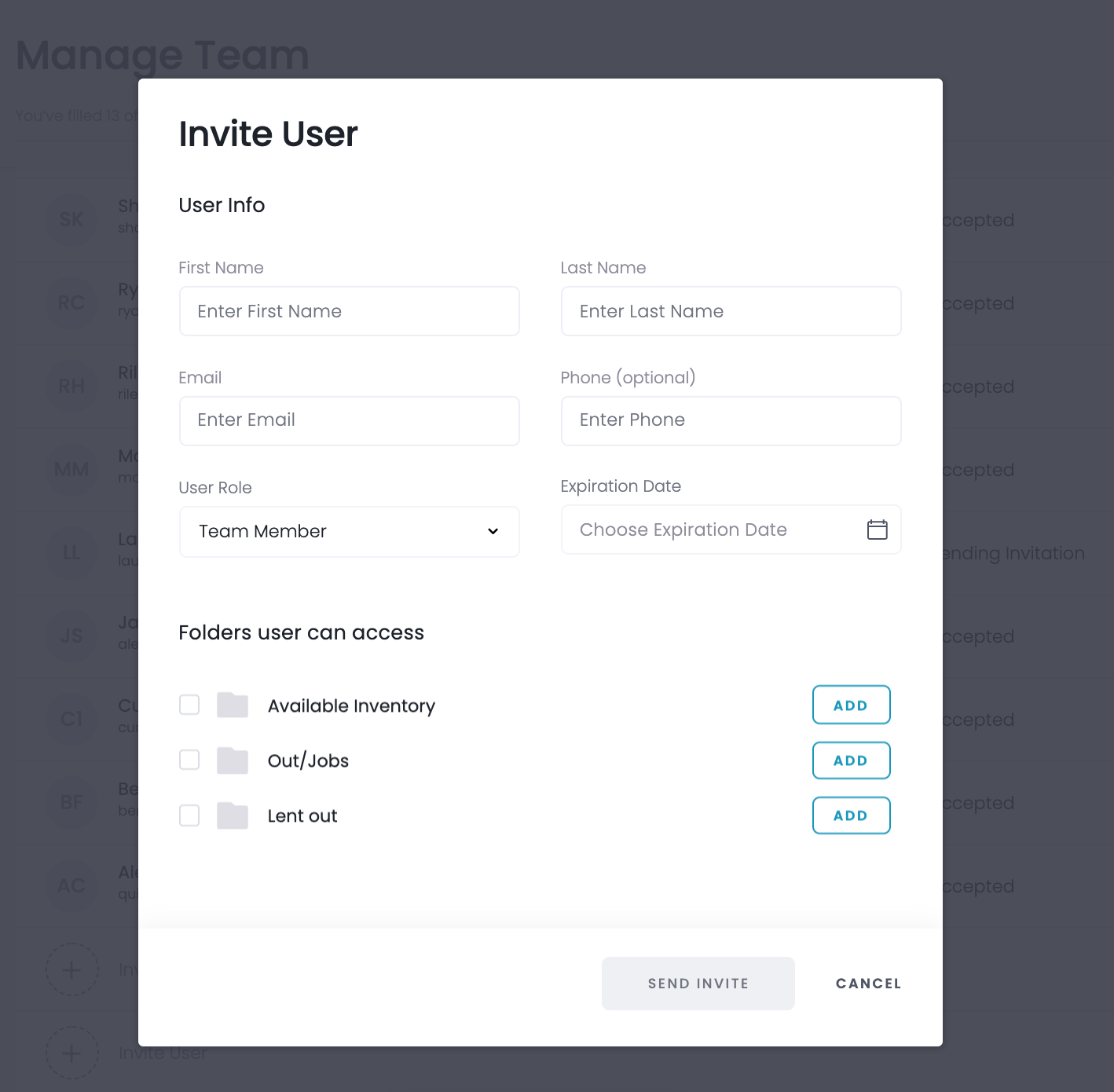 4. The invited user will receive an email to log into Sortly and set up their password.
Reporting
With Sortly, you can export simple reports reflecting your current inventory summary, transaction reports, or past activity via PDF or CSV for your tracking purposes.
You can view your Inventory Summary, Low Stock Summary, and All Transactions Summary in your Reporting tab at any time here.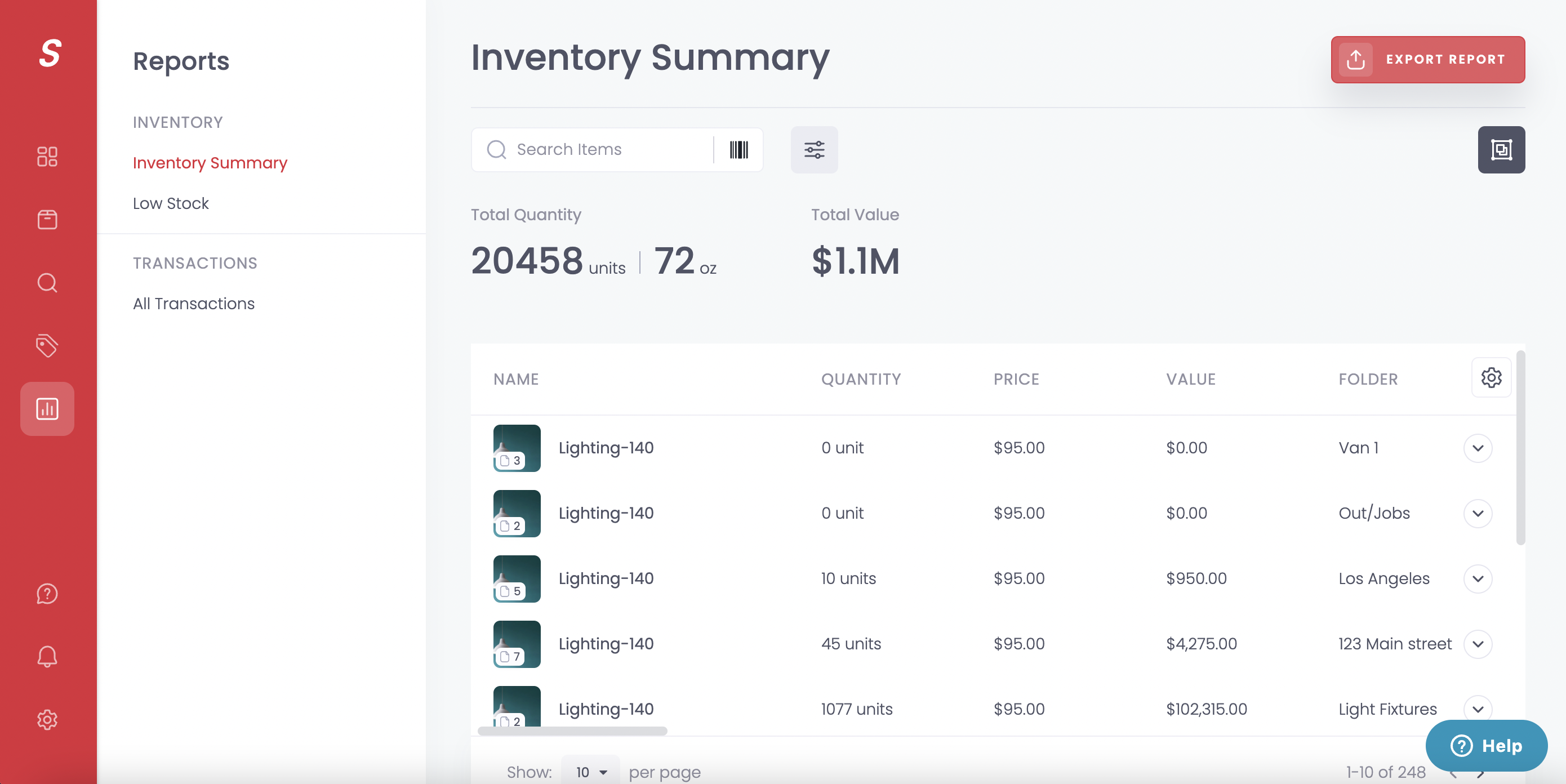 Additional Key Features
If you've got your inventory basics set up and are interested in other key features, please see below!
Creating Labels
With Sortly, you can create QR labels or barcode labels (if you are on an Ultra plan) that are connected to any of your items in a few clicks. They can be created in a variety of sizes with different attributes available to include depending on the size you select. See the below articles to learn how. Adding barcodes or QR codes to your items will allow you to easily locate and update your inventory using the in-app scanner in your Sortly mobile app.
If your existing inventory items already have barcodes or QR codes attached, you can scan and connect existing third party barcodes within Sortly by following the steps outlined here:
Add Tags
With Sortly, you can add tags to your items. Tags will give you an alternative way to group your items so it's easier to search for items across your inventory. For example, if your folders are organized based on location but you want to view your items based on "brand" or "color", you can add those options as tags and view your items in the "Tags" section of the App.